Entrance
(2012)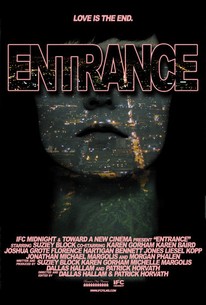 AUDIENCE SCORE
Critic Consensus: No consensus yet.
Movie Info
Entrance is a riveting new psychological thriller from newcomers Dallas Hallam and Patrick Horvath, exploring the thin line between anxiety and naked horror in the life of Suzy (Suziey Block), a young woman in Los Angeles who can't get comfortable in her own skin. A loner who wallows in nostalgia and finds herself wandering aimlessly through life in the city, she can't shake the gnawing suspicion that a true menace grows just outside her field of vision. As she scrambles to take control of her life, her anxiety rises to a fever pitch that boils over into a waking nightmare. -- (C) IFC
Critic Reviews for Entrance
Audience Reviews for Entrance
I am completely baffled by any praise it may receive because this is a film that does not work at all. The filmmakers are apparently trying to simulate real life by making the depiction of the protagonist's life dull and monotonous, but real life is far more interesting. Hell, just watch anybody's home movies and you're sure to find interesting people and dialogue that puts this lifeless assembly of cardboard cutouts to shame. There is a whole lot of nothing going on in this movie. Endless shots of people feeding their dogs and scrubbing toilets. The last half of the movie is the only half of the movie in which anything of consequence actually happens but it lacks the desired impact because we don't care about anyone involved. We don't care because we never got to know any of these people despite the fact that we were subjected to them for the first hour or so. They are such dullards, they hardly speak more than a few syllables, and they don't seem to have any interests beyond being an object in the movie. I was bored to death by the pretentious artsy quality. Lots of shaky cam for no apparent reason than to scream at the audience: "look, we're real!" I hated this movie. It is inept!
Philip Zamora
½
Yes, it seems slow and dull and where are we going with this, but it powerfully delivers on the methodical buildup of a sense, a feeling that something truly horrific is about to happen to this lovely, very nice girl. Wow! Looking forward to the next flick from these folks. The lead actress is wonderful.
Frank Rizo
½
This film is pretty much dangerously slow for the first hour or so. Slow to the point that there were several occasions where I felt like stopping it. I do think the movie does a very good job at showcasing Suzy's anxiety and how she's simply not adjusting well to life in Los Angeles and the only thing keeping her there is her dog. The movie is also psychological in the sense that Suzy always feels like there's something or someone out to get her. So there is a sense of dread there, at least in some scenes, where someone's presence is implied by the use of noise. But I don't think the movie really sustains this tension because there comes a point in the movie, probably when Suzy decides to leave, that it just stops until the 1 hour mark. And this brings us to the climax of the movie, where the movie becomes a nasty little home invasion movie. And the thing is, you could watch this entire movie without thinking, at any moment, that this home invasion angle could come as a huge surprise to you. I think that's a positive, because it does add a surprising element to the film, a film that had been psychological more than anything else. I thought the last 20 minutes or so of the movie were very well done, pretty much the home invasion is everything it needed to be. It was bleak and disturbing, because you're not even sure who this man is or why he's doing what he's doing. He explains that he has been watching Suzy for a long time, but there's a senselessness to the crime that makes it even more disturbing. But the problem is that I don't think the movie has enough interesting material to go as long as it does. Yea, the movie is just 80 minutes long, not counting the credits. It does build up tension in some scenes very well but it is not sustained, the movie, for the most part, just feels aimless. You're not sure why you're even watching for the most part. And that's really a problem. Does the last act make the entire movie worth sitting through? I don't know. For some people, yes. For me? I'm not really so sure, it does make the movie a lot better, but I can't say it makes everything leading up to it better. It just doesn't. That's not to say everything leading up to the climax was bad, it was just a chore to get through. But I still think this movie is average at best. It's got a really slow build to a great climax. Shave 20 minutes off this film and I'd say this was a good movie.
Jesse Ortega
Super Reviewer
Entrance Quotes
There are no approved quotes yet for this movie.
Discussion Forum
Discuss Entrance on our Movie forum!