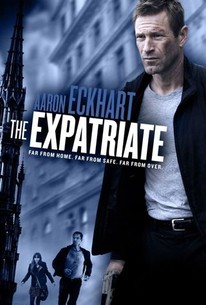 The Expatriate
2012, Action/Mystery & thriller, 1h 44m
45 Reviews
10,000+ Ratings
What to know
critics consensus
Derivative to a fault, Erased squanders some nifty potential and its talented cast in a bland retelling of a story action fans have seen too many times before. Read critic reviews
Where to watch
Rent/buy
Rent/buy
Rate And Review
Movie Info
A former agent (Aaron Eckhart) of the CIA and his estranged daughter (Liana Liberato) go on the run after his employers target them for assassination.
News & Interviews for The Expatriate
Audience Reviews for The Expatriate
Be careful who you work for. Good movie! The plot moves quickly from story setup to action, and the suspense never lets up from there. In summary, this isn't the best thriller this year, but it sure is a damn fine viewing, especially if you like the genre. With good production values and that sleek look that blockbusters have it will definitely entertain you. An ex-CIA agent and his estranged daughter are forced on the run when his employers erase all records of his existence, and mark them both for termination as part of a wide-reaching international conspiracy.

Not bad. Aaron Eckhart has a good screen presence, as usual, and makes a good protagonist. Whoever plays Eckhart's daughter is really annoying at times, often bitching about how she's missing her friends and stuff while rogue CIA agents are trying to kill her and her father. Olga Kurylenko is also a solid addition to this film, and I wish we could've seen more of her character. All in all, a cool espionage movie--nothing special but still interesting to watch.

Erased is the prime example of a movie which simply does not need to be made. Ostensibly, Erased is a 'thriller', about the ever-ubiquitous ex-CIA agen ("black ops as the movie often reminds us) who is set up as part of a vast conspiracy, and the ensuing cat-and-mouse game that results. Unfortunately, Erased doesn't deliver on its premise to any real effect, resulting in something that feels bland and lackluster in execution. Erased's script features stilted and obvious dialogue, in a story populated by actors that are thinly written and one-note. The conspiracy never makes much sense, and is very poorly integrated in to the film. What good spy thrillers do is involve the audience in a mystery and chase for the truth that is tension filled, what Erased does is give vague exposition with bland action, and no real sense of stakes. We never care about what's going on, because the film never seems to. The acting in Erased, though filled with a talented cast, is poor all-around. Aaron Eckhart does not have the intensity level required for such a role, and is matched with Liana Liberato, a child actor who suffers from the terrible script. The other supporting actors are all bland and just "there", with no one doing anything to elevate the material. The actions scenes are terribly un-interesting, filmed in the most obvious ways imaginable. What action does transpire feels muted and thrill-less. There's never any tension to be had, things just seem to unfold in a "going through the motions" manner. This is undoubtedly a testament to the bad direction, which does nothing to distinguish the film. A disappointing all around execution. 1.5/5 Stars

A smart, swift, confident and intelligent piece of popcorn action movie entertainment. A thinking-man's thriller with charisma and well-done elements that make it terrifically entertaining. It's a sharpened combo of Taken meets Bourne. Aaron Eckhart is fantastic, he adds the right amount of intensity, emotion and even a little bit of heart. A sharp, heart-pounding and frequently gripping edge of your seat thrill-ride that's filled with gripping suspense and exciting action from start to finish.
See Details