Even Dwarfs Started Small (Auch Zwerge haben klein angefangen)
(1970)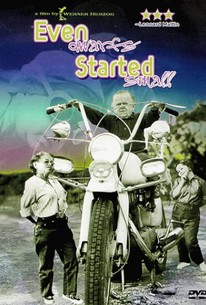 Even Dwarfs Started Small (Auch Zwerge haben klein angefangen) Photos
Movie Info
Even viewers who've seen Freaks won't be completely prepared for Werner Herzog's bizarre Even Dwarfs Started Small. The film is set in a dismal mental institution, wherein dwell several midgets, dwarfs and other "oddities." Sick of being tormented and exploited by the so-called normal people of the world, the inmates stage a coup, taking over the asylum and utterly reversing the status quo (Herzog's apparent attempt to draw parallels between the events on screen and such real-life upheavals as Vietnam). As in his other films, the director imbues his misshapen characters with a sort of regal grandeur, as if to purge the German wartime atrocities against "underdesirables." Herzog also produced, wrote and provided the musical arrangements for Even Dwarfs Started Small, which was initially released in Germany in 1970 (two years after its completion) as Auch Zwerge haben klein angefagen. ~ Hal Erickson, Rovi
Critic Reviews for Even Dwarfs Started Small (Auch Zwerge haben klein angefangen)
Audience Reviews for Even Dwarfs Started Small (Auch Zwerge haben klein angefangen)
Residents of an institution escape and wreck the grounds with childlike acts of vandalism and petty cruelty. The entire cast is composed of dwarfs. Almost plotless, but with moments that stick to your soul like a coating of grime (tiny Hombre laughing at the struggling camel may haunt your nightmares for years to come). Animal lovers beware.
A boring watch even though the title looked oh-so-promising. Also, after seeing great three-dimensional acting like Peter Dinklage in The Station Agent, Jordan Prentice In Bruges, hell even Harold Sakata as Oddjob, then watching a director make a bunch of dwarfs run around being childish and rebellious with little squeaky voices for two hours seems, well, patronising
This film is terribly difficult to rate. Proclaim it genius or garbage -- I'm content to accept either verdict. For me, the bottom line became asking myself whether I enjoyed watching it. And the answer was no. I was impatient for it to end, and watched most of it in small chunks because I couldn't bear the tedium for extended periods. (Surprisingly, the film is legally streamed on YouTube, along with a few other Werner Herzog works on the same channel.) What an incredibly bleak picture is painted. The "story" is more of an initial premise than a plot, and most of the action amounts to a small posse of dwarves running around a dirty courtyard wreaking repetitive, semi-improvised chaos on animals, cars and household objects. When the scene with the greatest narrative tension simply involves a character trying to climb onto a bed, it's clear that not much is happening. A central motif seems to be that the human characters are no better than cackling chickens -- a theme which is hammered again and again through the actors' *incessant* giggling, which emerges as the film's single most memorable feature (well, either that or the marvelous, unmanned truck which aimlessly rolls in a tight circle throughout most of the film). But if the story aims for some greater philosophical point about anarchy, mankind's beastly nature or the like, why did the cast even need to be dwarves? The characters' height is never commented upon and no average-sized people appear, yet the cars, beds, doors and other items are suited for the taller set. So...what happened to the big 'uns? It's not as if the setting is presented as some nihilistic future where Charlton Heston enters and growls about the six-footers finally destroying themselves for good. There is only one cast member who does anything resembling acting -- the others mostly just cavort and giggle, cavort and giggle. I would be curious to see what sort of script Herzog had, prior to shooting. In any case, it's easy to see why the film was controversial, because portraying dwarves as no more than impulsive, unthinking, violent children is far from politically correct. Even the one authority figure, the one oasis of articulate maturity, is left arguing with a dead tree by the end. No one escapes this madness.
Eric Broome
Super Reviewer
Even Dwarfs Started Small (Auch Zwerge haben klein angefangen) Quotes
There are no approved quotes yet for this movie.