Everything Put Together
(2001)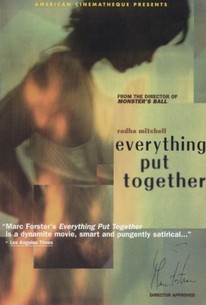 Movie Info
Marc Forster directs this chilling psychological drama about a young mother trying to come to terms with the loss of her first born. Angie (Radha Mitchell) and her husband Russ (Justin Louis) live a quiet suburban life. At the film's opening, Angie, along with her best friends Judith (Catherine Lloyd Burns) and Barbie (Megan Mullally), who also happen to be pregnant, gleefully discuss morning sickness and baby showers. After her textbook delivery to a healthy boy, the doctor pulls Russ aside and whispers something in his ear. Angie's worst fears are confirmed when she learns that her child suddenly died, a victim of sudden infant death syndrome. In spite of loving support from her husband and friends, Angie quickly spirals into a deep depression and begins developing morbid obsessions, such as going to morgue to examine her baby, visiting the place where her child's toys are buried, and watching children at play in the park. Shot on digital video, the film features an intense emotionally immediacy. This film was screened at the 2000 Sundance Film Festival.
Rating:
R
Genre:
, ,
Directed By:
Written By:
In Theaters:
On DVD:
Runtime:
Studio:
Critic Reviews for Everything Put Together
Audience Reviews for Everything Put Together
The story of a white, materialistic suburban couple who become mildly perturbed when their newborn dies of SIDS. Nothing to see here.
Cory Beaudoin
[center][size=6][color=Red][u][b]Doom[/b][/u][/color][/size] [size=4][color=Red][b] Synopsis[/b][/color][/size] Something has gone wrong at a remote scientific research station on Mars. All research has ceased. Communication has failed. And the messages that do get through are less than comforting. It's a level 5 quarantine and the only souls allowed in or out are the Rapid Response Tactical Squad - hardened Marines armed to the teeth with enough firepower to neutralize the enemy... or so they think. The research being done at Odluval station has unwittingly opened a door and all hell has broken loose. A legion of nightmarish creatures of unknown origin lurk behind every wall and stalk the countless rooms and tunnels of the facility, killing what few people remain. [size=4][color=Red][b] [img]http://www.moviegoods.com/Assets/product_images/1010/294968.1010.A.jpg[/img] Review[/b][/color][/size] While there are a couple things good with this movie, the bad things cancel them out and we still have some crap left. First of all director Andrzej Bartkowiak figured that this is a movie based off a first person shooter game, so why not make a couple minutes first person shooter. While that right there was a very bad idea, cause all it does is make you wish for the end of the movie even more. There is a reason that some things are for games, and other things are for movies. The whole first half of the movie we get crap, and very bad performance by The Rock. Half the stuff that was supposed to be I guess you could say "frightening" were comedic. In the second half we get one good fight scene, and then a decent end fight scene. That is the only reason this review is getting a rating 5, I almost don't think it should get that high of a rating. Now like I said most of The Rocks performance sucked, so I am beginning to doubt my saying he has some potential in the movie industry. Which he's only had one really good movie which was 'The Rundown' the others sucked or were mediocre. So I'm thinking that maybe the ones that weren't that bad the story and action kept me away from watching his acting so closely. Also I must make a comment about the BFG gun, they should have done something more with that gun, it shoots twice and both times suck. Sure it has a big splatter with its bio stuff, BUT IT SUCKED, nothing cool about it really. The story was borderline stupid, and I don't know about the games or what the story was or if this was how it was in the game, but there was a lot more they could have done with it, to make it more enjoyable. But guess what? THEY DIDN'T. Basically all this movie is an [b][color=Lime]'Aliens' [/color][/b]wannabe with the [color=Red][b]'Doom'[/b][/color] name, and it doesn't come close to touching [color=Lime][b]'Aliens'[/b][/color] in the least. I wouldn't recommend bothering with this movie at all, but if you must wait for it on DVD. But for the most part, just go watch [color=Lime][b]'Aliens'[/b][/color], you'll enjoy it 10 times better. [u][b][size=6][color=Yellow] Everything Put Together[/color][/size][/b][/u] [size=4][color=Yellow][b]Synopsis [/b][/color][/size] Angie and Russ are a young married couple at the pinnacle of their dreams and expectations. Their perfect world becomes a nightmare when a day after their baby is born, he dies inexplicably. Rather than rallying to support Angie and Russ, their friends (most of who are pregnant or have small children) block them out of their lives to avoid the discomfort of dealing with the couple's loss. Without her friends and with her marriage disintegrating, Angie is set adrift to deal with her grief alone, sending her on a strange and terrifying journey into madness. Only after a near-fatal collision is Angie able to return her life to some semblance of normalcy and rejoin the social circle. [size=4][color=Yellow][b] Review[/b][/color][/size] While I love the story and idea to this movie because it is more true than more people might know. The main focus of the movie I think is not that the baby dies right after being born, which is still a big thing in the movie, but the focus to me was on how your friends react to these sort of things. This movie shows how fast your friends can go from one day talking and joking around with you, to using such an excuse as "We should give her more time before we try and talk to her." Which is just a selfish excuse so you don't have to deal with it, and drag you down yourself. The direction is to blame in this movie, because it just seemed off to me for some reason. Marc Foster tried to do a different direction style and make the scenes kind of choppy, which it just didn't seem to fit for this type of movie. I think the movie would have worked better and had a more emotional pull to it without a lot of that. Because we get some great performances by Radha Mitchell and Justin Louis and the rest of the cast, but Marc Forster throws is off by his directing. [/center]
Daniel Oakley
Everything Put Together Quotes
There are no approved quotes yet for this movie.