Evilspeak
(1982)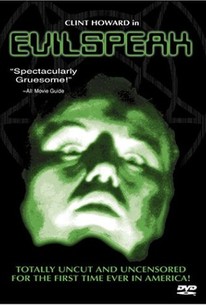 Movie Info
Professional weirdo Clint Howard plays one of his more interesting oppressed-geek roles in this occult revenge thriller about a tormented military-school nerd (apparently in his mid-thirties!) whose personal computer provides the only solace from the endless taunts and pranks of his fellow cadets. He also has an intense fascination with the occult, leading him to investigate an arcane tome secreted within an ancient, crumbling chapel. In an attempt to decipher the text, he feeds it into the computer, which translates the writings into actual working spells. As Clint's mind reels with the possibilities of sweet revenge against his cruel classmates and teachers, the demonic forces once trapped within the book begin to exert control over his mind and body. Before long, he is able to summon an army of snarling devil-pigs (no, that's not a misprint) to do his evil bidding. Though this is essentially a gender-bent rip-off of Carrie, there is enough in the way of spooky atmosphere and well-staged shocks to keep less discriminating horror fans interested.
Critic Reviews for Evilspeak
Audience Reviews for Evilspeak
½
It's essentially a male Carrie, and worth a watch.
Marcus Woolcott
Super Reviewer
Hell hath no fury like a nerd seeking revenge. This is not a run-of-the-mill geek-empowerment flick as the preface of a cult being excommunicated from Spain indicates. Sadly the various mannequin beheadings look very tawdry which is befitting of the minuscule budget. Orphaned and marooned at a military school (the regimented setting is a breeding ground for horror-movie mayhem), Coopersmith (Clint Howard) is continuously chastised by his peers for his poor soccer skills and social awkwardness. 'Evilspeak' is a crisp, if belatedly madcap starring vehicle for Howard who is typecast as maladjusted, gap-toothed introverts. Most of the runtime is a tautening groundswell until Coopersmith reaches his boiling point and the film is frontloaded with cruelty from Coopersmith's classmates who physically abuse him and casually insult him. Normally the on-screen act of someone furiously typing on a keyboard quickly devolves in ennui but translating Latin texts of pentagram Satanism captivates the helter-skelter allure. A black mass is on the cusp and the viewers anxiously anticipate Coopersmith assembling the incomplete ingredient of a consecrated host. A convulsive head snap and gluttonous pigs are just appetizers to the unspeakable anarchy ahead. 'Evilspeak' delivers the viscera in a church bloodbath and it is a sacrilegious joy to behold.
Cory Taylor
Super Reviewer
Enjoyable cult film, Evilspeak is one of those forgotten horror gems that is a must watch for genre fans that are looking for a fun, entertaining and ultimately gory ride. The film does have its shortcomings, most notably the fact that it is a film that does show its age. Nonetheless, it's still a worthy film for genre enthusiasts and the final more than makes up for the dated look. Evilspeak is a very good forgotten gem of early 80's horror, and it deserves to be rediscovered by fans of horror. Clint Howard has done better work, but here, he is quite good in his performance and makes the film that much more enjoyable. If you're looking for an entertaining cult horror film, Evilspeak is a terrific gem of horror cinema that deserves to be rediscovered. With the amount of gore presented in the film, it's definitely enough to appeal to gorehounds, and it's one of most exciting finals in a horror film. With that being said, Evilspeak is definitely worth a second look, one that is a surprising treat for viewers that enjoy such films. The film works well because it has good atmosphere that steadily builds up the terror and it succeeds. Sure, it's a bit cheesy, but there is some genuine tension, and it's a very well crafted picture that delivers effective horror throughout in order to make this one of the better obscured horror films. If you come across this film, give it a watch, it's a fun, entertaining and worthwhile film, even if it does show its age.
Evilspeak Quotes
There are no approved quotes yet for this movie.