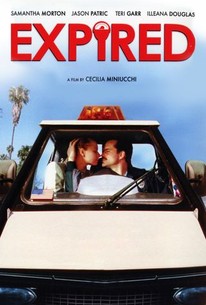 Expired
2007, Comedy/Drama, 1h 44m
22 Reviews
500+ Ratings
What to know
critics consensus
Heartwarming and acidic in turns, this offbeat dramedy about two meter maids in love features solid performances from Samantha Morton and Jason Patric. Read critic reviews
Rate And Review
Movie Info
Jay Caswell (Jason Patric) and Claire Barney (Samantha Morton) are both Los Angeles parking enforcement officers, but they have very different temperaments. While Jay is bitter and tightly wound, Claire is thoughtful and emotive, and their two personalities both clash and connect when they become romantically involved. However, numerous things stand in the way of their happiness as a couple, most notably their mutual distrust of lasting relationships.
News & Interviews for Expired
Audience Reviews for Expired
In "Expired," Claire(Samantha Morton) takes care of her invalid mother(Teri Garr) while working as a meter maid. That job has its share of dangers like arguments with drivers, awkward encounters with ex-boyfriends and being hit by cars. After recuperating from one such accident, she meets Jay(Jason Patric), a co-worker who takes a much more agressive stance towards the job. That does not stop him from having his own awkward encounter with his estranged son(Jonny Mack) who is about to have his CD released and whom he tickets, anyway. But then they will let anybody on MTV these days. Samantha Morton proved years ago that she can personally elevate any movie she is in, especially the mostly abominable "Minority Report." And that's also true with the otherwise unremarkable "Expired," that feels a little incomplete, to which she excels against the one-note performance of Jason Patric. In a switch, Claire is nowhere near as lonely as she might seem while Jay relies on phone sex and pornography for most of his interpersonal relations. That having been said, the movie's message is being kind can make the world a better place. Don't get me wrong. It's a worthy thought but strange coming from a movie about characters doling out parking tickets.(Apparently, you only get ticketed when you are about to return to your car.) As much as not ticketing somebody may be considered a good deed, remember that the money collected does go to the public good.

Independent Romance-Drama/Comedy written and directed by Cecilia Miniucchi. Good writing and directing for the most part, good cinematography as well. Good performances by Samantha Morton, Jason Patric ["The Lost Boys", "The Losers"], Teri Garr, and Illeana Douglas ["Cape Fear", "Stir of Echoes"]. The ticket-giving scenes were very realistic, they reminded me of the reality show "Parking Wars". I found the dynamic between the two lead characters very interesting and weird, at some points it reminded me of the independent film "Secretary". Claire [played by Samantha Morton] is an abnormally pleasant passive aggressive lonely woman with low self-esteem and Jay [played by Jason Patric] is a serious asshole, both of them seem to be suffering from personality disorders. I spent most of the movie waiting for her to curse him out, it's sad to know that there are women out there with such a lack of self love or value. There are some scenes that provide some insight into Jay's alleged narcissistic personality disorder and you can tell he actually has lower self esteem than Claire based upon the way he takes out his frustrations with his own failures on people. The two share the occasional sweet moment even though Jay can't seem to just be a nice human-being for a prolonged amount of time, if they ever make a sequel they'll probably show him seeing a shrink. The title of the movie is not just a play on words referring to parking meters expiring, it's also a metaphor for life and how so many people waste their potential and end up expiring before they can make something of themselves. It's about love and how some people never find it, and about the people who do find love...but the wrong kind of love. Overall I found this to be a very compelling film despite some deficiencies, it's definitely worth a second watch.

offbeat romantic comedy. samantha morton is amazing. jason patric's character is despicable. teri garr is surprising in her role, to say the least.
See Details