Extreme Ops
(2002)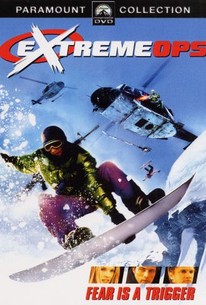 Movie Info
A group of extreme winter athletes find themselves risking their neck for more than just thrills in this action drama. Jeffrey (Rupert Graves) is a director who has been hired to make a television commercial for a cellular phone company. For the spot, Jeffrey has come up with an exciting visual motif - a group of extreme skiers and snowboarders outrunning an avalanche on a remote mountain range. To get the needed footage, Jeffrey and his crew head to Austria, where they set up to film on a mountain near the former Yugoslavia; joining them is Olympic downhill champion Chloe (Bridgette Wilson-Sampras) and world-class snowboarders Ian (Rufus Sewell, Will (Devon Sawa), Silo (Joe Absolom), and Kittie (Jana Pallaske). While filming along an unchartered slope, Jeffrey's camera crew make an unexpected discovery - they find the secret compound of international terrorist Slobodan Pavlov (Klaus Lowitsch), and even capture the deadly man on videotape. Extremely unhappy that he's been found out, Pavlov turns his immediate attention to eliminating Jeffrey, his crew, and his skiers, and soon the snowboarders are forced to use their skills not just for kicks, but to save their friends - and possibly the world. Director Christian Duguay) is an old hand at filming in snow-covered mountains, having made the TV movie Snowbound: The Jim and Jennifer Stolpa Story in 1994.
People Who Like this movie also like
News & Interviews for Extreme Ops
Critic Reviews for Extreme Ops
Audience Reviews for Extreme Ops
½
The stunt, the action, and the eye candy was incredible. The storyline was strong and this movie could have been great, if they had focused as much attention on the story and the conflict as they did on the stunts. All in all, very entertaining, eventhou there isn't much of a story to it.
Todd Smith
Super Reviewer
Extreme Ops is the perfect definition of a very bad film. Bad acting, bad actors, plot and directing. The plot to this film is by far one of the stupidest plots I've ever seen for a film. A bunch of extreme sports kids defeat powerful terrorists. Right then that should tell you this film will suck-and it it does. Everyone in this film obviously know nothing in making a good action film. If you want a good action film view Die Hard, that had a story, this piece of shit had action and no story. Extreme Ops is one of the worst films I've seen, and like I said it's the perfect example of a bad film. Nothing really does make sense, and the film gets even more rediculous. A very bad teen oriented action film, and I watched this when I was in my teens, it sucked then and it sucks now.
½
"Look it's not easy for me to admit this, but the fact of it is, over the past 24 hours, I've fallen in love with each and every one of you. We're going to be pretty high up there and it's going to be pretty dangerous. And if anything should happen, I don't think I'd forgive myself. Especially you Silo, your quiet charm has cast a spell over me." - Ian

Actually this movie wasn't a total stinker. It had some good points, a lot of low points as well, but still some good stuff to be seen. The story was actually a rather interesting idea. The characters in the movie were all pretty good ideas, just not executed correctly. The two characters that were supposed to be super adrenaline junkies were good ideas, but weren't done justice. I'm not saying the acting was horrible or anything like that, I'm just saying that some of the things they were doing didn't look "cool", just plain stupid. There were a few stunts that they did that were really cool though, so it wasn't a total bust. The action in the film was actually really good at times. But, it was very often short-lived. For the actual final moments of the movie, let's just say it could have been better. Most of the actors did a fine job. Rufus Sewell did a fine job as always. Devon Sawa did a surprisingly good job in this movie. Bridgette Wilson did a great job with her role and looks absolutely fantastic throughout the movie. Jana Pallaske did an ok job with her role. She wasn't spectacular, but she did pretty good job given the material. All in all, I can't in good conscience recommend you go see this movie in the theater unless you just want to see some cool snowboarding/skiing footage.
Steven Vincent Gee
Super Reviewer
Extreme Ops Quotes
There are no approved quotes yet for this movie.