Fast Break
(1979)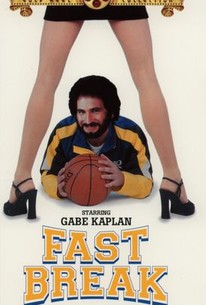 AUDIENCE SCORE
Critic Consensus: No consensus yet.
Movie Info
Hot on the heels of his Welcome Back Kotter success, Gabe Kaplan starred in this hastily assembled theatrical feature. Kaplan plays David Greene, the coach of a Nevada collegiate basketball team. Inasmuch as the local talent is pretty pathetic, Greene convinces a group of jive-talking New York street kids into playing for the college. Culture-clash jokes abound, with the black cast members usually coming out on top. In keeping with sports-comedy tradition, one of Greene's team members is a girl, and a very attractive one. Though it hasn't an original bone in its body, Fast Break is breezy entertainment, with a particularly thrilling climax.
Critic Reviews for Fast Break
Audience Reviews for Fast Break
*** (out of four) Gabe Kaplan is a basketball enthusiast who is hired by a Nevada college to coach. The film is silly, but has some heart. Kaplan is great and shares some good chemistry with the players.
Steve Smith
Like most TV stars who have had success, Gabe Kaplan got his chance to try his hand at movies. With a familiar role, as mentor to a group of deliquent young men, wisecracking his way into their hearts and assuring their success. Some have argued that the movie falls apart early and never recovers. I disagree. While it starts out fast it does slow a bit but not to the point where the movie is not enjoyable. Greene (Kaplan) is an aspiring coah but no one wants him. Eventually he gets his lucky break when Cadwallader University, in rural Nevada contacts him. This college is trying to make a name for itself by starting a basketball program, and they can not even pay Greene (Kaplan). With a terrible salery and the promise that he can bring anyone he wants for the team he sets out to inner city New York. He recruits a team of three African American men and one woman and transplants them to an all white college. The team struggles, as finding a fifth man proves difficult, their grades aren't showing enough promise to keep them in school, and they have no idea how they are ever going to play State without being in their division. The movie is easy to watch but the humor never really rises so if your looking for a "laugh out loud" type of movie this is way to subtle. Basketball fans might also enjoy seeing NBA star Bernard King as Hustler, one of the main players of the team. I personally love the "Interesting" relationship between DC (Harold Sylvester of Married with Children fame) and Swish (Mavis Washington). Swish pretends to be a man though most of the movie which leads to some interesting moments with DC that are both enjoyable and funny. This movie is for those who want a light, feel good comedy.
Michelle Moore
Fast Break Quotes
There are no approved quotes yet for this movie.
Discussion Forum
Discuss Fast Break on our Movie forum!