Female
(1933)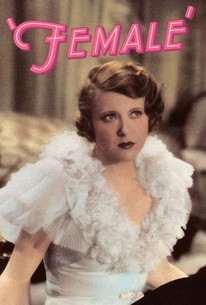 Movie Info
Ruth Chatterton tears up the screen in this fast-paced, lusty comedy. Alison Drake is an automobile magnate, a hard-nosed, hardboiled business woman making dozens of important decisions a day. In her private life, however, she is passionate and bold in her pursuit of male companionship, which she frequently finds among the ranks of her own employees and executives; the problem is that these men can't abide the fact that back at work, she's all business again; and she keeps having to get their long, mopey faces out of her presence by transferring them elsewhere. Then she meets Jim Thorne (George Brent), a gifted engineer who is attracted to Drake but isn't a callow, kowtowing yes-man, and isn't awed by her millions. After a few awkward encounters, they find a balance in their lives together, or so she thinks, until he proposes marriage.
Critic Reviews for Female
Audience Reviews for Female
½
Starts out zesty and modern and is quite entertaining until the cop out ending.
Ruth Chatterton is a trail blazing feminist with the hots for George Brent. An atypical romance that becomes decidedly typical as it progresses.
Randy Tippy
Super Reviewer
A woman runs a factory after her father's death, which was highly unusual for the 30s. She treats men the way men treat women, which to her means with little respect and only to get what she wants from them. That part of the movie was interesting, but then she falls in love and the movie ends in a predictable manner.
Female Quotes
There are no approved quotes yet for this movie.