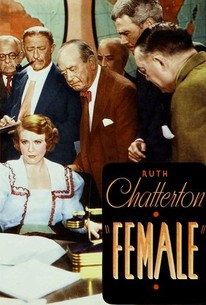 Female
1933, Comedy/Drama, 1h 5m
6 Reviews
250+ Ratings
Rate And Review
Movie Info
The highly motivated owner of a car company, Alison Drake (Ruth Chatterton), puts up a businesslike facade, but she frequently cuts loose by casually dating men both in her employ and otherwise. When she tires of spending time with opportunistic guys, however, she happens to meet Jim Thorne (George Brent), one of her own engineers, and is smitten. While Jim initially turns away Alison's advances, he eventually falls for her, but can their burgeoning romance work in the long run?
Audience Reviews for Female
Starts out zesty and modern and is quite entertaining until the cop out ending.

In "Female," Alison Drake(Ruth Chatterton) has her hands full during the day running her father's auto company. But at night she has time to not only get caught up with her old friend Harriet(Lois Wilson) but also to make time with Cooper(Johnny Mack Brown), a new hire. The following day, it is back to business, putting her feet down in opposition to any feelings he might have for her, while she banishes a former lover to Montreal(Oh no! Not that! Anything but that!) before requesting some sensible female additions to the secretarial pool. "Female" is a fast paced drama that has a lot of fun with its reversal of the gender roles of the time the movie was made. The irony is that the movie also wraps up much too quickly but it is still entertaining as far as it goes. But, oh, that poor pig!

A woman runs a factory after her father's death, which was highly unusual for the 30s. She treats men the way men treat women, which to her means with little respect and only to get what she wants from them. That part of the movie was interesting, but then she falls in love and the movie ends in a predictable manner.

Ruth Chatterton is a trail blazing feminist with the hots for George Brent. An atypical romance that becomes decidedly typical as it progresses.
See Details