First Reformed
(2018)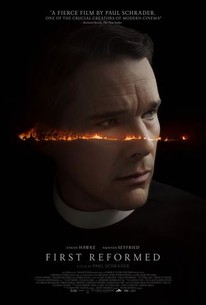 TOMATOMETER
AUDIENCE SCORE
Critic Consensus: Brought to life by delicate work from writer-director Paul Schrader and elevated by a standout performance by Ethan Hawke, First Reformed takes a sensitive and suspenseful look at weighty themes.
Movie Info
Reverend Ernst Toller (Ethan Hawke) is a solitary, middle-aged parish pastor at a small Dutch Reform church in upstate New York on the cusp of celebrating its 250th anniversary. Once a stop on the Underground Railroad, the church is now a tourist attraction catering to a dwindling congregation, eclipsed by its nearby parent church, Abundant Life, with its state-of-the-art facilities and 5,000-strong flock. When a pregnant parishioner (Amanda Seyfried) asks Reverend Toller to counsel her husband, a radical environmentalist, the clergyman finds himself plunged into his own tormented past, and equally despairing future, until he finds redemption in an act of grandiose violence. From writer-director Paul Schrader (Taxi Driver; American Gigolo; Affliction) comes a gripping thriller about a crisis of faith that is at once personal, political, and planetary.
News & Interviews for First Reformed
Critic Reviews for First Reformed
Audience Reviews for First Reformed
½
I had to see this one twice to even broach an analysis, and what I'm about to write probably won't do the movie justice as I don't want to spoil anything for anyone who hasn't seen it yet. First Reformed is the movie that 2018 needed. What at first might seem like your standard religious drama, Paul Schrader's new film has so much to say about some of the most pertinent socio-political subjects of our time. It is a strange, beautiful, and sometimes painful experience that resonates from the micro to the macro. On one level, it is the study of a man who has lost his faith, lost his hope, and lost his will to continue on. Ethan Hawke plays a reverend who's bouncing on and off of rock bottom. Middle-aged and divorced after losing his child and relegated to a sparsely attended tourist church, he has fallen into alcoholism to cope with his inner demons and his disillusionment with God and America. He tells himself "I know that nothing can change, and I know there is no hope." Yet to others he maintains a facade of faithful optimism which is in and of itself another act of self denial. He's a man tortured by the thought of his impending demise, yet he is actively bringing it upon himself. Of course, parallel to his arc is the story of humanity. The stewards of this planet have failed in their duties to God's creation, and in the same way we have deluded ourselves with the comfort of futility. Schrader has said in multiple interviews that in regard to climate change, we are essentially doomed, and we are going to have to come to terms with this fact. It's a bleak perspective, I know, but the truth is rarely convenient and, these days, all too easy to ignore. In accepting this, the only two practical outcomes are destruction or creation. Amidst mass shootings, the return of fascism, the immigrant crisis, and climate disasters, it's so easy to give into despair. That despair begets more desperation and hatred and violence. We are seeing the repercussions of ideological extremism on a daily basis while refusing to evaluate how we fuel that fire with antipathy and isolation. But we can change, and there is hope. Even if it's just another act of self delusion, to hold hope inside and act on it will ease the psychic burden and lessen the pain for yourself and others. The movie's good too.
K Nife Churchkey
Super Reviewer
½
Paul Schrader and Ethan Hawke team up to eavesdrop into the tortured soul of Reverend Ernst Toller who asks the pertinet question - "Who knows what is in the mind Of God?" Hawke's performances is the best so far this year and the cinematography is really good. The biblical references are numerous in First Reformed but the donning of the barb wire around Toller's body in the ending scene was almost too much to watch. The ending is controversial but found it uplifting - the mother Mary entering Toller's tomb to bring him back from the dead. (6-9-18)
YOU PREACHIN' TO ME? - My Review of FIRST REFORMED (4 Stars) I don't tend to discuss my UCLA Film School education in my reviews, as the references would tend towards the obscure for those who don't consider themselves cinephiles. One of my all-time favorite critics, the late great Roger Ebert, took a populist approach despite having a bottomless well of filmic knowledge. He kept his reviews conversational while still maintaining a stringency and a focus. I've always aspired towards that approach, but there's no way to review Paul Schrader's latest film without mentioning Robert Bresson, whose DIARY OF A COUNTRY PRIEST from 1954 had an obvious influence on Schrader's new work. A major figure of the French New Wave, Bresson's films typically utilized non-actors and had a stripped-down minimalist style. He was known as the "Patron Saint of Cinema" and his work can be felt by such successors as Todd Solondz, whose last film WIENER DOG owes a huge debt to AU HASARD BALTHAZAR, and now with Schrader's FIRST REFORMED, which clearly has its through-line from the aforementioned film. Scharder literally wrote a book about Bresson as well, TRANSCENDENTAL STYLE IN FILM: OZU, BRESSON, DREYER from 1972, so the man clearly had him in mind while making this. Like COUNTRY PRIEST, it centers around a local religious leader with tormented doubts about his faith. In FIRST REFORMED, Ethan Hawke plays Ernst Toller, the Reverend of a tiny congregation in Upstate New York that tries to carve out its niche in the shadow of a competing mega-church. The action begins when a pregnant local woman named Mary (Amanda Seyfried) requests that Toller meet with her husband Michael (Philip Ettinger). An environmentalist plagued by doomsday scenarios, Michael wants Mary to have an abortion rather than bring a child into a dying world. Ettinger deserves the "Beatrice Straight from NETWORK Oscar" for his blistering single scene monologue. HIs words and fears have an impact on the rest of the film, especially on Toller's thoughts and actions. To say more would spoil the beautiful anguish of this story, superbly acted by Hawke, in what I think is a career best...and I LOVED him in BOYHOOD. Here, Hawke finds a quiet command to his voice and stature which perfectly embodies the hellfire swirling around inside. At times it feels like the Godly version of TAXI DRIVER (which Schrader wrote), descending into darkness and the promise of some pretty severe actions. At the risk of a terrible pun, instead of DeNiro sporting a mohawk, we have Hawke! Cedric Kyles (aka Cedric The Entertainer), who impressed me so much in Chris Rock's TOP FIVE, does so again here as Reverend Jeffers, the leader of the giant Abundant Life church and who does his best to council Toller through his darkest days. Kyles is one talented actor who digs as deeply into dramatic roles as he does with his comedic turns. Schrader and his Cinematographer Alexander Dynan, chose to shoot the film in the old school, square box Academy ratio, much like IDA from 2013, another film which challenges religious devotion. It adds to the beautiful spareness of this quiet, difficult film. Still, Schrader manages one surreal sequence, which helps bring us into Toller's state of mind and prepares us for an ending which will surely spark conversations. Without going into detail, the last scene, a love it or hate it moment, forces the viewer to question Toller's mental state and begs the question, "What actually happened?" At the screening I attended, many felt ripped off by it, but I loved its abruptness and its unexpected turn. I can't say I enjoyed watching FIRST REFORMED, as it rips open some painful wounds, but its definitely worthy. By bringing in the real world to the world of religion, which relies on faith and hope more than it does what's right in front of you, it's a challenging, tough sit. As someone not fond of organized religion, I felt compassion for Toller while still thinking, "You do lead a bunch of people to believe in fairy tales, so there WILL be consequences!"
Glenn Gaylord
Super Reviewer
First Reformed Quotes
There are no approved quotes yet for this movie.