Five Days
(2007)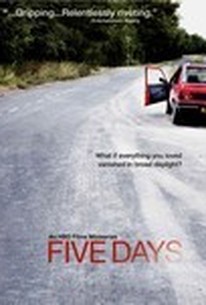 AUDIENCE SCORE
Critic Consensus: No consensus yet.
Movie Info
While buying flowers at a roadside stand, a mother disappears, leaving her two young children waiting in her car. Soon, the kids set off to find their mother, but they go missing as well, and an epic police investigation ensues. HBO and BBC team up for this gripping miniseries, which depicts the saga on five separate days throughout the search. The cast includes David Oyelowo as the distraught husband and Hugh Bonneville as the chief detective.
Audience Reviews for Five Days
"Five Days" revolves around a singular event, that of the disappearance of Leanne Wellings(Christine Tremarco) at a highway service road when she is in the process of buying flowers for her grandfather(Edward Woodward). Was she murdered, abducted or did she simply run off? Not even her two youngest children could see what had happened and they too disappear, trying to find their way home. Tanya(Lucinda Dryzek), a 13-year old daughter from a previous marriage, lied to get out of going and instead went shopping. In this family, there are four generations of disfunction which Matt(David Oyelowo), ex-army and now a personal trainer, has married into which intersects with the disfunctional family of the police, who while not incompetent, only manage leads through the luckiest of breaks. Speaking of lucky, Josh(Al Weaver), a cub reporter, is in the right place and time to get a scoop while Sarah(Sarah Smart) happens upon an important discovery. Both of their lives are changed forever. DSI Iain Barclay(Hugh Bonneville) is under intense pressure to solve the case, probably because of what has been termed Missing White Woman Syndrome and race is one of the central themes here. Matt happens to be black and the younger police officers are from a variety of backgrounds including Simone(Nikki Amuka-Bird), a young policewoman assigned to the case. "Five Days" is a miniseries that tells a complex story from a variety of viewpoints, not only including the police and the family, but like I said above, the press.(Surprisingly, there is little heard from the legal profession.) It is not so much interested in the policework but the psychological ramifications of the disappearances. The first scenes are meant to convey a sense of the calm before the storm but instead they feel a bit overwhelming in introducing so many characters, so quickly. After the opening days of the investigation, the series skips ahead in time. With such a fresh approach, it is a shame that the mystery is wrapped up so perfunctorily. It would have been better if the ending had been left open which would have made the drama that much more compelling and haunting like "Homicide: Life on the Streets" back in the day.
Five Days Quotes
There are no approved quotes yet for this movie.