Ochazuke no aji (Flavor of Green Tea Over Rice)
(1964)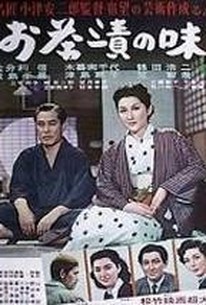 AUDIENCE SCORE
Critic Consensus: No consensus yet.
Ochazuke no aji (Flavor of Green Tea Over Rice) Photos
Movie Info
Re-released in 1972, Ochazuke No Aji, or The Flavor of Green Tea Over Rice, is one of those films whose transcendent simplicity transforms an ordinary story into something special. A man with very simple tastes and habits meets with growing exasperation from his more sophisticated wife. She treats him with increasing disrespect and nearly has an affair, but something changes her attitude and she returns to him with an appreciation for his simplicity and reliability. ~ Clarke Fountain, Rovi
Critic Reviews for Ochazuke no aji (Flavor of Green Tea Over Rice)
All Critics (4) | Top Critics (2) | Fresh (4) | Rotten (0)
Yasujiro Ozu's delicate melodramas (this one dates from his finest period, 1951) avoid any sense of cliche in their restrained, sometimes painfully subtle study of family relationships.

No one shrug or sigh or smile is more or less dispensible than another gesture, which explains why minor characters are so important in Ozu films.

What The Flavor of Green Tea did have was a delicate flavor... .
Audience Reviews for Ochazuke no aji (Flavor of Green Tea Over Rice)
½
Flavor of Green Tea Over Rice starts with an excellent shot. Riding in the back of a car are two women, one is dressed in modern westernised clothes, while the other is dressed in a kimono. Such a shot perfectly captures many of Ozu's themes. Ozu then strengthens his topics with a simple conversation where Setsuko discusses seeing a French movie. Taeko is a bored housewife that insults her husband on a country getaway with her friends and niece. This really offends her niece Setsuko, and when it comes time for a wedding interview Setsuko is terrified that she will end up like her cruel aunt. Taeko's husband Mokichi is a very simple man with great patience. He tries to go along with his wife, but eventually it all becomes toomuch. She doesn't like the way he eats, the way he travels, or the cigarette brand he smokes. If I have one problem with this movie it's that Taeko is the most unlikable of Ozu's characters I have seen. She is simply cruel to an extent that it goes beyond culture/generational differences. Luckily it all adds together for an incredible ending. In true Ozu style, the married couple struggling to make something as simple as rice ignites their love and they decide to really make a go of things. It's really comforting to see a film that avoids all melodrama and rushes to the airports. It proves that subtlety can be a powerful thing.
Luke Baldock
Super Reviewer
Ochazuke no aji (Flavor of Green Tea Over Rice) Quotes
There are no approved quotes yet for this movie.