Freedomland
(2006)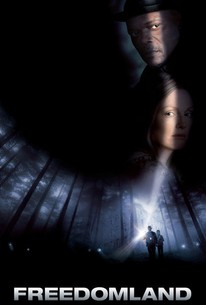 TOMATOMETER
AUDIENCE SCORE
Critic Consensus: Poorly directed and overacted, Freedomland attempts to address sensitive race and class issues but its overzealousness misses the mark.
Movie Info
Joe Roth directs his adaptation of Richard Price's novel Freedomland from a script by the author. Samuel L. Jackson stars as a police detective who must investigate a distraught woman (Julianne Moore) who claims that her child was kidnapped by a black man. The accusation stirs up much racial animosity in the town. Edie Falco co-stars.
People Who Like this movie also like
News & Interviews for Freedomland
Critic Reviews for Freedomland
Audience Reviews for Freedomland
An ex-druggie white mom claims that she was car-jacked in a black neighborhood ... and that her 4 year old was in the back seat. Thus erupts simmering racial hatred, profiling, police brutality and mucho uber-drama in this uneven effort that has eyes bigger than its stomach. The work of Jackson, Moore and Falco do a lot towards saving what could'be been one truly disastrous mess but only just.
Kevin M. Williams
Super Reviewer
½
This film had the potential to be excellent. Freedomland is a grown-up crime drama/mystery film with an actual story and substance, which is the complex relationship between law enforcement and racial isuues/tension. It's not that films like this aren't being made, because they are, it's just that they're not as pervasive as they once were. This starts off pretty promising and strong, but quickly spirals out of hand, losing focus, and becoming a muddled, confused story where nothing is quite as it seems, with the end result being a limp noodle that just sort of fizzles into nothing. The story does get resolved of course, but it is disappointing and rather anticlimatic. The direction isn't terrible, but it seems like there's a lack of confidence or maybe that the material is good enough to hold things together. The script was adapted from a book, with the screenwriter responsible for both. Maybe the book is better, maybe not. It just feels like with the movie though that something (or a lot of things) may be missing, because when things lose foucs, they also stop making total sense. The acting is good though. I like the cast, and they give decent performances. In fact, that's probably the only really decent thing at work here. It's just too bad that the material and the execution couldn't also be as strong. The film, despite it's problems, is just kind of average, and not a complete train wreck. Perhaps my bias towards the actors is affecting things, but this film really seems like it's just average compared to similar works, but not completely bad.
Chris Weber
Super Reviewer
A bloodied woman stumbles into an emergency room accusing an unknown black assailant of stealing her car with her 4 year old son still sleeping in the back. Detective Samuel L. Jackson investigates while trying to diffuse the ensuing racial friction in the local projects. Hollywood has another stab at a thriller that tackles race relations, and once again is found wanting. The level of subtlety on display here makes Crash look like a gritty documentary, and Julianne Moore sniffles and whines her way through the film as a completely one dimensional hysterical mother. Even SLJ struggles to keep this sentimental drivel afloat, but despite his usual commanding presence, the weak script and trite dialogue means that following a couple of unbelievable plot contrivances and meaningless platitudes on the level of "God moves in mysterious ways" even he is starting to look embarrassed to be there. This is one of those films that you watch because the star names make you think it deserves attention, but by the end their choice to become involved with such simplistic, melodramatic nonsense makes you feel a little betrayed by them. If you're hankering for some race related drama done right (and even featuring the man himself) I'd stick with Do The Right Thing.