Freeze Me
(2001)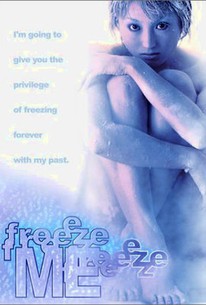 Movie Info
Takashi Ishii directs this jet-black erotic thriller about a woman's past coming back to haunt her. Chihiro (played by model Harumi Inoue) is enjoying her life -- she likes her white-collar job and she loves her handsome co-worker boyfriend. Then one day, she sees an unusually attractive stranger poking through her mail. To her horror, she recognizes him as Hirokawa (Kazuki Kitamura), one of three thugs who gang-raped her years previous. Worse, he recognizes her and forces himself into her apartment. Acting like a long-lost lover, he tells her that he and the other two rapists -- including yakuza boss Baba (Naoto Takenaka), who just got out of prison -- are coming soon to relive the old times. He shows her photographs of the last rape, which he shows to her baffled boyfriend (Shunsuke Matsuoka), who makes a brief visit, and which he has stuffed in the mailboxes of all of her neighbors. The following day, he goes to her work and creates a scene that results in her getting canned. Chihiro's slow burn suddenly erupts into a fantastically violent catharsis. Preparing herself for the impending visit of the other rapists, she stuffs Hirokawa's body in the refrigerator. ~ Jonathan Crow, Rovi
Critic Reviews for Freeze Me
Audience Reviews for Freeze Me
Vicious and disturbing rape/revenge movie from cult Japanese director Takashi Ishii. It'll be quite an ordeal to sit through if you struggle with films like "I Spit on Your Grave" and "The Last House on the Left" as this one contains similar, almost endless scenes of rape and terrorization of a young woman in her Tokyo appartment by three guys from her past who video-taped a sexual encounter with her a few years previous and seek to do the same again. As with most of Takashi Ishii movies it has a gritty realism to it all and manages to be brutal and shocking without an over indulgence of gore or blood. You really start to feel for the victim and will her on through her ordeal right up to the tragic ending. Well worth a look if you like extreme movies.
½
Known in the UK as 'Freezer' this is an interesting Thriller, which I feel has a certain Hitchcock influence to it, reminders of Psycho and Rope came to mind at times. It really begs the question, what you would do in this desperate scenario? There is a certain amount of predictability to it, but despite this it was an enjoyable revenge storyl.
Lady D'arbanville
Super Reviewer
It is no secret that Japan is able to come up with these whacked out stories. This rape-revenge thriller concept falls into this category, but director Takashi Ishii doesn't take advantage of it. We just end up with a disappointing thriller.
You have a young woman who gets raped by 3 men, who then years later decide to do it again. So she decides to kill them and store their bodies in freezers. That sounds like it has some potential to entertain right? It is too bad that the film itself isn't as interesting as the plot. The biggest annoyance of this film is the main character, Chihiro. It's not the acting that is bad, but it is the character's decision making. It is because of this that you don't feel as bad as you should every time the rapists feel her up or penetrate her on multiple occasions.
This film has a ton of nudity, which is fine. We have many a scene with Chihiro showing us her boobs. It is not only during the rape scenes either. This movie finds the time to get in a couple of normal sex scenes with her boyfriend in the middle of all of this. All the nudity may catch your attention, but in this film it feels like the scenes go on and on just so you can see her cleavage for just a few more minutes. I mean, how many times do I need to see her go into the shower? If I want to see a film with some story and a beautiful women strutting her stuff, then I will watch a soft core porn. This is not a soft core porn the last time I checked.
The acting is OK. Harumi Inoue does a decent job with the lead and the 3 rapists are good. You really want to see them die.
Unlike The Machine Girl, which takes the good guy killer story and runs with it, this one just takes a slow walk and doesn't really go anywhere.
Freeze Me Quotes
There are no approved quotes yet for this movie.