Friday the 13th
(1980)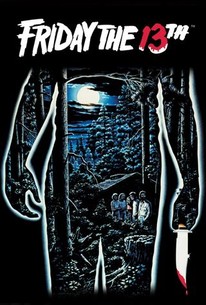 Movie Info
One of the longest-running horror film series began with this gory shocker from director Sean S. Cunningham, who had previously produced Wes Craven's classic Last House on the Left. Entrepreneur Steve Christie (Peter Brouwer) re-opens Camp Crystal Lake after many years during which it has been cursed by murders and bad luck. The young and nubile counselors all begin to die extremely bloody deaths at the hands of an unseen killer during a rainstorm which isolates the camp. A woman is chopped in the face with an axe, another has her throat sliced in amazingly gruesome fashion, a male counselor (Harry Crosby) is pinned to a door with arrows, and a young Kevin Bacon has an arrow shoved through his throat from below a bed. Victor Miller's script is not particularly impressive, but Cunningham's tense direction, and some remarkable special-effects by acclaimed makeup artist Tom Savini are enough to make it worthwhile. 1950s quiz show regular Betsy Palmer appears as the cook whose son, Jason (Ari Lehman), drowned 25 years earlier while neglected by romancing counselors. Palmer was reportedly cast because she was willing to drive her own car to and from the set. Trivia buffs should note the decapitation scene near the end, in which the female killer exhibits rather hirsute hands clutching at the air. The hands belong to Savini's assistant, Taso N. Stavrakis. Friday the 13th made nearly 40 million dollars at the box office and spawned numerous sequels. ~ Robert Firsching, Rovi
Rating:
R (adult situations/language, sex, violence)
Genre:
Directed By:
Written By:
In Theaters:
On DVD:
Runtime:
Studio:
Paramount Pictures
News & Interviews for Friday the 13th
Critic Reviews for Friday the 13th
Audience Reviews for Friday the 13th
When you think that this is the first movie of the infamous long series, it is hard to believe that the one that started it all is so awful and sluggish, and yet it did help shape the conventions of the slasher subgenre and at least has a good cinematography and great makeup effects.
Carlos Magalhães
Super Reviewer
Dead Angel
Super Reviewer
This is the film that launched the most successful Horror franchise in the history of the United States. It spawned 9 sequels, a crossover with Freddy Krueger, an eventual reboot, and a whole host of imitators. It was originally made to cash in on the success of the most brilliant slasher movie of all-time, John Carpenter's "Halloween". Needless to say, it took on a life of it's own. Many would argue that this is the best of the Friday the 13th movies, and it's not difficult to understand their argument. After all, this was the birth of some of the most iconic characters in the history of Horror. I'm sure that it also benefited from being released prior to the eventual saturation of the slasher genre. Sean Cunningham was able to produce an ominous atmosphere, in what was probably one of the best settings ever imagined for a Horror movie. This film, along with it's sequels, had a pronounced influence on me as a child, so I'll always give Friday the 13th credit, at least from a nostalgic standpoint. Unfortunately, I don't consider Friday the 13th that great of a movie. To me, much of the appeal of a "Friday the 13th" movie, was watching Jason kill people. The initial installment borrowed heavily from the Italian films, that were very influential at the time. The camera normally pans the surroundings with a voyeuristic approach. So in most cases, you're witnessing events from the viewpoint of the killer. It is effective at times, but it has never been my favorite technique. True to the Italian formula, the mysterious killer isn't revealed until the film's climax. In Friday the 13th, this results in a largely embarrassing cat fight between Pamela Voorhees and the "Alice" character. Further complaints would include the overly methodical pace, and the fact that after 30 years, the film hasn't aged well at all. This is probably one of the better installments in the series, which might not be saying that much. You can certainly do worse if you're sitting down with a Friday the 13th movie, but there are far more entertaining slasher movies to spend your time on too.
Jason Calvin
Super Reviewer
Friday the 13th Quotes
| | |
| --- | --- |
| Marcie: | "Why, when I looked into that mirror I knew I'd always be ugly. I said, 'LIzzy, you'll always be plain." |
| Marcie: | Why, when I looked into that mirror I knew I'd always be ugly. I said, LIzzy, you'll always be plain. |
| Marcie: | Why, when I looked into that mirror I knew I'd always be ugly. I said, "Lizzy, you'll always be plain." |
| | |
| --- | --- |
| Alice: | The boy... |
| Sgt. Tierney: | What boy? |
| Alice: | The little boy, Jason! The one who pulled me underneath the water! |
| Sgt. Tierney: | Man... we didn´t find any boy. |
| Alice: | Then he is still there... |
| | |
| --- | --- |
| Dorf: | What you been smoking, boy? |
| Jack: | Smoke? Don't smoke cause cancer? |