Friday the 13th - The Final Chapter
(1984)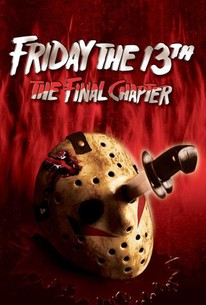 Friday the 13th - The Final Chapter Photos
Movie Info
Hockey-masked killer Jason Vorhees returns to terrorize a lakeside family and their rowdy teen neighbors in this fourth installment of the long-running slasher series. After the events of Friday the 13th, Part 3, Jason's seemingly lifeless body is brought to the morgue, where horny attendant Axel (Bruce Mahler) is trying to score with foxy Nurse Morgan (Lisa Freeman). The pair quickly meet a grisly end. Meanwhile, at Crystal Lake, estranged wife Mrs. Jarvis (Joan Freeman) and her kids -- young Tommy (Corey Feldman) and teenaged Trish (Kimberly Beck) -- find their quiet invaded by a group of hard-partying kids moving into the rental house next door. The youngsters include curious virgin Sara (Barbara Howard), hot-to-trot Samantha (Judie Aronson), and nebbish Jimmy (Crispin Glover). Tommy, a monster makeup enthusiast, enjoys watching the scantily clad young ladies through his window, while Trish toys with the idea of joining in their revelries. Also lurking around the area is Rob (Erich Anderson), who claims to be hunting bear but actually has mysterious ties to the events of Friday the 13th, Part 2. As the house full of teens begins to pair off -- aided by the addition of local twins Tina (Camilla More) and Terri (Carey More) to the mix -- an unseen killer begins to pick them off one by one. The bloodshed climaxes with a tense showdown in which Tommy disguises himself as a bald, lumpy boyhood version of Jason in hopes of distracting the relentless psychopath who hunts him. Feldman would return for a cameo in Friday the 13th, Part V: A New Beginning, only to be replaced by another actor in a grown-up version of the role. ~ Brian J. Dillard, Rovi
People Who Like this movie also like
News & Interviews for Friday the 13th - The Final Chapter
Critic Reviews for Friday the 13th - The Final Chapter
Audience Reviews for Friday the 13th - The Final Chapter
½
It is funny to see how many times you can kill a (dead) man and yet he always comes back, but this movie is way too laughably stupid (at one point a guy even goes down into a basement for no other reason than to get killed), filled with paper-thin characters and atrocious dialogue.
Carlos Magalhães
Super Reviewer
½
I've always found "The Final Chapter" to be one of the better Friday the 13th sequels. Of course, that might not be saying a whole lot. This film, at least, executes the formula quite well. There's a pretty impressive body count made up of irritating morons, who find themselves executed with maximum brutality. It was a nice touch adding a protagonist, in the form of Tommy Jarvis. The showdown between the two, that results in Jason's "death", is especially tasty. Jason was far from a polished product at this point, but they were getting better. It's just stupid watching the old version of the character run, it looks ridiculous. All in all, if you want to watch Friday the 13th, this one's not bad.
Jason Calvin
Super Reviewer
½
The story continues with Friday the 13th: The Final Chapter, which as the title proclaims, was to be the last entry in the series (as was Part 3). However, it made a ton of money and that idea was laid to rest. What's interesting, first of all, is that If you break down the timeline of the films, you realize that films 2 through 4 take place over the course of about a week in different locations in and around Camp Crystal Lake. Insane, really. Do these people not watch the news or listen to the radio? Surely they must have heard about what's going on by now. Mass murder is usually big news, you know. Nevertheless, it's the typical fare for the series up to this point. New director Joseph Zito takes over the reins from Steve Miner with Tom Savini returning to finish off Jason... or so they thought. This time around, the effects are superb, but like the previous film, with lackluster story and no real visual direction. It does have those cliche'd visual horror movie moments, but nothing that distinguishable. This is also the last of the all around 'classic' Friday the 13th films before Jason was reinvented and reimagined in later sequels. After this film, Jason was no longer human and had superhuman strength, only making the death sequences in later films more intense and violent. This film, however, was due to be his final send-off. He really dies this time, and there's no playing with the audience that he might not be dead. He wouldn't be killed off again until 5 sequels later, only to be resurrected, yet again, but I'm getting off topic here. Overall, this movie is a solid entry in the series, but for me, it's missing what made Part 2 work so well: character development and visual style. It's not a bad entry, just a lackluster one. It's a shame because most fans hold this entry up as the best of the series, which I disagree with. It's good, but there isn't enough here to keep me as interested as before.
Tim Salmons
Super Reviewer
Friday the 13th - The Final Chapter Quotes
| | |
| --- | --- |
| Jimmy: | Well, you know what I suggest you do about that, Ted; I think you should run that through your computer. |
| Jimmy: | Well, you know what I suggest you do about that. Ted, I think you should run that through your computer. |
| | |
| --- | --- |
| Tommy: | (hacking away at Jason with a machete) - DIE!!! DIE!!! DIE!!! ...DIE!!! |
| Tommy: | (hacking away at Jason with a machete) - DIE! DIE! DIE! DIE! |
| | |
| --- | --- |
| Tommy: | (after watching the teens skinny-dipping) - Some pack of patootsies, huh? |
| Trish: | Tommy. |
| | |
| --- | --- |
| Jimmy: | Ted. I think...I think when we get to town I should call Betty. |
| Jimmy: | Ted. I think. I think when we get to town I should call Betty. |
| Ted: | Jimbo, calling Betty is definitely a dead fu*k thing to do. Look, first rule of love: never get rejected by the same girl twice, I mean that's useless. If you want to make a fool out of yourself, always do it with someone new. |