Gamebox 1.0
(2004)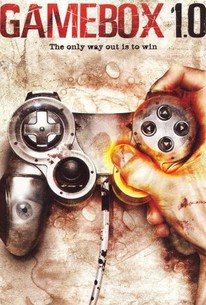 AUDIENCE SCORE
Critic Consensus: No consensus yet.
Movie Info
A reclusive video game tester discovers a revolutionary new console system with the power to feed on the player's most intimate hopes and fears in directors David and Scott Hillenbrand's virtual reality thriller. Charlie Nash (Nate Richert) is one of the best video game testers in the business, but when his girlfriend Kate (Danielle Fishel) is ruthlessly gunned down by crooked cop Ronald Hobbes (Patrick Kilpatrick) the pain of Charlie's loss becomes too overwhelming to bear. Subsequently withdrawing into his work as a means of maintaining his sanity, Charlie is surprised to find a mysterious package on his doorstep containing a console system labeled GameBox 1.0. In addition to featuring a wireless headset, the mysterious game system also sports a camera with which Charlie is encouraged to photograph his friends so they may become characters in the game. Compelled by the prospect of escaping reality and truly immersing himself in a realistic, three-dimensional environment, Charlie obliges and casts Ronald Hobbes as the main villain. As the game begins, Charlie is stunned to find his senses completely overwhelmed. Not only does Hobbes appear as a samurai warrior intent on destroying the awe-stricken gamer, but Kate also turns up in the game as a character named Princess despite the fact that Charlie never loaded her photograph into the system. Frightened by the unnerving development and disturbed to feel real pain when he is injured in the game, Charlie realizes that the game is feeding on his memories and immediately turns the system off. Once started the game must be played to completion, however, and after suffering a disorienting series of hallucinations Charlie slips into a coma from which the only escape is to defeat the evil samurai while leading Princess through a formidable gauntlet of dangerous levels including an alien war zone, a zombie-infested forest, and a lawless concrete jungle.
Critic Reviews for Gamebox 1.0
All Critics (1) | Fresh (1) | Rotten (0)
If you're a hardcore video game junkie and you've got a soft spot for scrappy little indie flicks, I'd call Gamebox 1.0 worthy of the rental fee.
Audience Reviews for Gamebox 1.0
Gamebox 1.0 is one of those movies I had to see, simply to find out what it was all about. The story seemed like such a unique concept that i was sure it would be something exciting. I was pretty dissapointed thou, being that it was direct to video and probably had a small budget, the special effects were pretty lame. The backround story was actually pretty good. However, it was buried under cheezy special effects and performed by Sabrina and Boy Meets World outcasts, that are all grown up, so it was hard to tell. After thinking about it a little, I could see where they were going. Overall, it was ok, pretty much just a direct to video version of a failed movie with a similar story line, Stay Alive. Pass on this one!
Todd Smith
Super Reviewer
Gamebox 1.0 Quotes
There are no approved quotes yet for this movie.