Gate of Hell (Jigokumon)
(1954)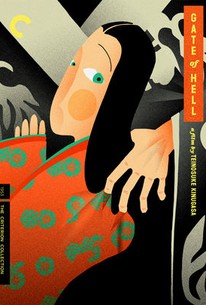 Movie Info
Originally released as Jigokumen, Gate of Hell was one of the most popular Japanese imports of the 1954-55 American film season. Set in 12th-century feudal Japan, the film stars Kazuo Hasegawa as Moritoh, a samurai whose courage in defending his ruler is to be rewarded with anything he desires. He desires the beautiful, aristocratic Lady Kesa Machiko Kyo who happens to be already married to another samurai, Wataru (Isao Yamagata). Moritoh attempts to persuade Kesa to leave her husband but her devotion is unshakeable. The winner of two Academy Awards and a Cannes grand prize, Gate of Hell is perhaps the most dazzling example of Japanese color photography of the 1950s. The film was based on a well-known play by Kan Kikuchi. ~ Hal Erickson, Rovi
Critic Reviews for Gate of Hell (Jigokumon)
Audience Reviews for Gate of Hell (Jigokumon)
In "Gate of Hell," a rebellion has broken out in Japan. As all hell breaks loose, a desperate plan is hatched to save the royalty by distracting them with a decoy. Kesa(Machiko Kyo), a handmaiden volunteers for the suicide mission which the rebels fall for. Luckily for her, Morito(Kazuo Hasegawa) is on hand to rescue her before battling his own brother. After order is restored and the rebellion put down, Morito is granted a boon for his bravery and loyalty. He chooses Kesa's hand in marriage which is when things get very, very complicated. Even as action packed as its first act is, "Gate of Hell" also finds the time to unload a lot of 12th century Japanese politics and history on the unsuspecting audience. That is all a little unnecessary, considering that at the heart of this historical drama is the intimate and timeless tragedy of three people and they are the only ones that matter. But the movie soon recovers itself very, very well on the way to its shattering climax. In general, this is also a movie about warriors who have trouble adjusting to peacetime, especially considering this was made not that long after the end of World War II.
This is a real art work, directed by Teinosuke Kinugasa. It tells the story of a samurai (Kazuo Hasegawa) who tries to marry a woman (Machiko Kyō) he rescues, only to discover that she is already married to someone else. This is the first Japanese color film to be released outside Japan, and it was noticed: won the Palme d'Or grand prize award at the 1954 Cannes Film Festival, a 1955 Academy Honorary Award for "Best Foreign Language Film first released in the United States during 1954", along with the Academy Award for Best Costume Design, Color, and the 1954 New York Film Critics Circle Award for "Best Foreign Language Film". Japanese cinematography has its own early pearls, and this is the huge one of the 1953. A story which develops so smoothly that there is no other way but to follow it to the end - and enjoy in that process. I'll have to say few words about some of the scenes and the acting but I am not an expert in the social behaviour and interaction in the samurai society, and I'll just accept that such a behaviour was normal at the time. A story of love and tragic ending, as well as one of the loyalty, lust and reasoning - so complex that I'll probably suggest a second viewing to understand fully all the layers of it.
This movie has a little sword play, but is primarily a drama. A group of rebels try to take over the government. A loyal samurai saves a woman who was sent out as a decoy disguised as the princess. He is awed by her beauty, and when they see each other later after the rebels' attempt was stopped, she thanks him for his valiant efforts. To our eyes, it doesn't look like she was too forward, but just by speaking to this man she does not know she may have said too much. It turns out she is married to a city official. The samurai falls in love and becomes obsessed. Not aware that she is taken he asks for her hand as his reward for fighting loyally. He becomes embarrassed and further obsessed when he finds out she is not available. The samurai pleads with the woman to leave her husband, but when she insists on remaining faithful, he decides he must remove the husband from the picture. This does not work out as planned though when the woman takes responsibility for having started the trouble. Though the culture is of a different place and time, there is nothing particularly foreign about the themes, relationships, or emotions portrayed here.
Byron Brubaker
Super Reviewer
Gate of Hell (Jigokumon) Quotes
There are no approved quotes yet for this movie.