Gin gwai (The Eye)
(2002)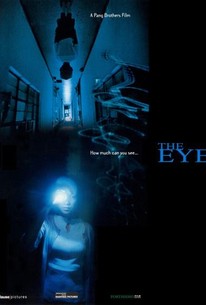 Gin gwai (The Eye) Photos
Movie Info
A corneal transplant sets the stage for terror in this supernatural thriller from directors Danny and Oxide Pang. Blind from the age of two, 20-year-old Mann (Angelica Lee) now has a chance to reclaim her sense of sight thanks to recent breakthroughs in technology. At first elated to have her vision restored, Mann's joy soon turns to paralyzing fear when she begins to see mysterious dark figures which foreshadow sudden, shocking deaths. Subsequently distraught over seeing Ling (Chutcha Rujinanon), the previous owner of the corneas, when she peers into the mirror, Mann's disturbing images slowly begin to chip away at her sanity until she has no choice but to track Ling's past and solve the horrifying mystery that plagues her. Traveling to Ling's former home in a small Northern Thailand village, Mann learns that Ling was driven to suicide after suffering similar visions preceding a tragic fire. When hundreds of the mysterious black figures descend upon Mann just as she is about to leave Thailand, she realizes that a horrific tragedy is set to unfold unless she can summon the courage to take action and use her supernatural gift of sight to alter the future.
Critic Reviews for Gin gwai (The Eye)
Audience Reviews for Gin gwai (The Eye)
[img]http://images.rottentomatoes.com/images/user/icons/icon13.gif[/img]
Directors Cat
Super Reviewer
½
Supernatural thriller featuring the beautiful and talented Angelica Lee. The concepts aren't exactly original but the approach is fresh and effectively frightening.
Randy Tippy
Super Reviewer
½
The Eye is terrific horror film. I've really dipped into the whole Asian horror films, but I have managed to see a few films.As a horror fan, I was stunned and how good this was. I love the Asian flair in creating atmospheric, and tense horror. Thats really the key in creating a good horror yarn, the atmosphere. If you don't have that in your film, well you're pretty much screwed. The Eye directed by The Pang Brothers is a well executed horror film that has plenty of jolts to creep out the viewer. You have to give Asians props for creating tense, atmospheric horror. They are rewriting the horror rule book, and creating several memorable horror films along the way. However the American market is bent on remaking all of them, to very mediocre results. The Eye recounts the story a girl who lost her eyesight atr a young age, and she gets a new pair of eyes from a doner. After the operation, she starts seeing ghostly figures with her new eyes. A horrifying tale, The Eye will keep you on the edge of your seat and creep you out till the very end. The Pang Brothers have made a terrific film and it delivers genuine scares. If you love this, stay away from the remake that film is terrible like with every other Asian horror remake. The original The Eye will never be surpassed and is one of the most original, and thrilling Asian horror films in many years.
Gin gwai (The Eye) Quotes
There are no approved quotes yet for this movie.