God's Army
(2000)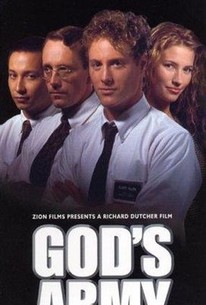 God's Army Videos
God's Army Photos
Movie Info
Richard Dutcher writes, produces, directs, and stars in this fish-out-of-water religious drama about Mormons pounding the streets of Hollywood, looking to save a couple of souls. A small town elder journeys to the big city and joins a missionary group led by the gruff Marcus Dalton (Dutcher). Together, they go door-to-door trying to convert people to their faith, Mormonism. Just when he's about to hang up his necktie and starched white shirt, he learns of the hardships that the others have endured -- Marcus has cancer, Banks, an African-American Mormon, was disowned by his family, and others have been harassed by nefarious anti-Mormon intellectuals. Soon, the young man learns that the first person he needs to convert is himself.
Rating:
PG (adult situations)
Genre:
,
Directed By:
Written By:
In Theaters:
On DVD:
Runtime:
Studio:
Cast
Critic Reviews for God's Army
Audience Reviews for God's Army
Good, but not in the same ballpark as Dutcher's latter two films. There are small moments and scenes--a missionary waiting at the bus stop to go home, several conversations while tracting, lunch at a favorite restaurant--that capture marvelously the workaday routine of LDS missionary lifestyle. Dutcher's need for some sort of life-changing plot, however, gets in the way in a big way.
Davey Morrison Dillard
Many real-life Mormons quibble over the improbabilities and downright inaccuracies regarding missionary procedure and behavior that abound this shoestring budgeted indie drama; I for one have always allotted greater value to the quality of a film than the accuracy. There are several significant problems with GOD'S ARMY, but they are outdone by the soulful ambition and heartfelt sincerity. In this film, director Richard Dutcher is only beginning, and his talent shows greater polish in later films. It's basically a Mormon missionary soap opera, and melodrama is where the film slips up most often, with strain on credulity at times and some overblown drama, but the themes of spirituality and crises of faith are very insightful, and though perceived through the prism of Mormonism, they relevant to all people of faith. Unfortunately, in spite of all it has to offer them, it is not likely to do much for orthodox Mormons because such viewers are prone to relate it to real life and stress over issues of representation. However, with an elementary knowledge of Mormons, non-Mormons may find much edification and insight, as well as for liberal Mormons.
J Brigham Holladay
God`s Army is one of the movies that bores me alot. I tried to watch the sequels and still not happy.
Discussion Forum
Discuss God's Army on our Movie forum!
News & Features