Godspell
(1973)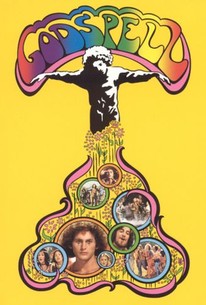 Movie Info
Godspell began as a special acting project at the Carnegie-Mellon drama department, then blossomed into a professional production at New York's Cafe La Mama. Today it is so often produced by parochial high schools that it's hard to believe that the project was once considered sacrilegious. Essentially, this musical piece is the Gospel According to St. Mathew translated into hippie-movement terms. Jesus (portrayed by Victor Garber, who years later played the Devil in the revival of Damn Yankees!) is redefined as a gentle flower child whose message is misunderstood by the Establishment. The medium of film allows director David Greene to literalize many of the elements only alluded to in the play, thus Godspell is enacted throughout the genuine streets of Manhattan, with particular emphasis on the Times Square area. Among the better-known songs in the Stephen Schwartz/John-Michael Tebelek score are "Day By Day" and "All For the Best." The film seems more quaint than progressive when seen today, with a curious air of detachment throughout.
Critic Reviews for Godspell
Audience Reviews for Godspell
This movie walks a fine line between uplifting and annoying. For the most part I found it really annoying. Maybe I'll watch it again someday to give it another chance.
If it wasn't so obviously religious, I would suspect they were all on drugs. Shocking.
Nicki Marie
Super Reviewer
½
Cool idea, to have a hippy version of Jesus running around the streets and landmarks of New York City with his co-ed disciples, but everybody acts like complete idiots, most of the songs (except for "Day By Day") are dreadful, and they tell boring stories. It's pantomime throughout. There's not much drama or conflict. I tried watching several times, and always got bored.
Lafe Fredbjornson
Super Reviewer
Godspell Quotes
There are no approved quotes yet for this movie.