Goliath
(2007)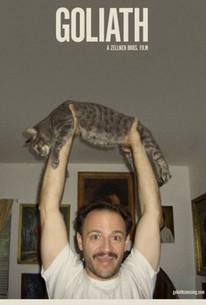 AUDIENCE SCORE
Critic Consensus: No consensus yet.
Movie Info
A man who already has too many problems to deal with finds himself finally beginning to crack when his beloved cat goes missing and he launches a tireless search campaign that spans the entire city. His wife is divorcing him, he's miserable at his job, but at least he has his feline friend Goliath to stave off the loneliness. But when Goliath disappears, it all just becomes too much to take. Now, in order to bring his furry little pal back home safe and sound, the miserable cat owner will cover his neighborhood in flyers, offer a hearty reward, and even enlist the aid of a private investigator. In the end, when his worst fears are confirmed, the grief simply becomes too much to take. Yet despite his sorrow, the man soon discovers that the cold darkness of true misery ultimately gives way to the warm glow of true hope.
Critic Reviews for Goliath
Audience Reviews for Goliath
This proved to be a most annoying film, about a man with anger issues whose life is spiraling out of control. David Zellner wrote, directed, and starred in this film, and plays the main (unnamed) character with a quietly simmering rage that often boils over in inappropriate behavior. Rather than feel sympathy, one feels that he has been the architect of his reduced circumstances. The acting from the supporting cast is amateurish and the lines are often delivered in an emotionless monotone. The cat, who one would expect to have a central role, is seen only in photographs, or in a lifeless cameo. At eighty minutes, the film seemed a lot longer, and this viewer suffered through to the end, only to be disappointed by a needlessly violent attack on a helpless victim whose guilt only existed in the main character's mind. A most unpleasant experience.
Mark Abell
Super Reviewer
½
Other than the painfully slow pacing, I really enjoyed this film. It's quintessential IFC stuff, with all the characteristics and charm that we've come to expect from independently produced comedies. Fascinatingly odd.
Randy Tippy
Super Reviewer
½
Exudes a most bizarre deadpan charm in its tale of a man and his missing cat.
William Goss
Super Reviewer
Goliath Quotes
There are no approved quotes yet for this movie.