Le fils de l'épicier (The Grocer's Son)
(2008)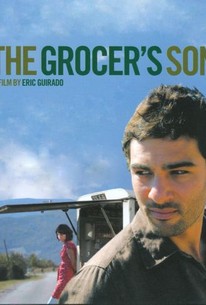 Le fils de l'épicier (The Grocer's Son) Photos
Movie Info
Quand Tu Descendras du Ciel director Eric Guirado follows up his feature filmmaking debut with this drama about a grocer's son who returns to the village where he was born in order to take over his father's business. Ten years ago, Antione (Nicolas Cazalé) left his family behind and moved to the big city. Now, after discovering that his father (Daniel Duval) has suffered a heart attack and that the family grocery store will soon be forced to shut down, Antoine heads back to the French mountain town at the behest of his brother François (Stéphan Guérin-Tillié). It seems that few folks save for his mother (Jeanne Goupil) are happy to see Antoine return, though the meandering 30-year-old has brought city friend Claire (Clotilde Hesme) along to keep him company during his stay in the country. Though it remains to be seen whether Antoine and Claire will ever become anything more than friends, the free-spirited sprite is more than happy to help out when it comes to making the rounds with the mobile store that services the local villages.
Critic Reviews for Le fils de l'épicier (The Grocer's Son)
Audience Reviews for Le fils de l'épicier (The Grocer's Son)
An excellent, sometimes infuriating, quiet study of a family dynamic dominated by three very headstrong men. Antoine (Nicholas Cazale) is the youngest son, who has moved to the city to escape what he views as the stultifying boredom of living in the French countryside. When his father (Daniel Duval) is stricken ill, Antoine is persuaded to come home to keep the family business afloat. Older brother, Francois (Stephan Guerin-Tillie) runs a hair salon and is dealing with what he sees as a temporary separation from his wife, even though she has been gone for two years and he somehow has manged to keep this from his family. If left to themselves, one gets the feeling these three would claw each other to death, so high are the passions. The matriarch of this clan (Jeanne Goupil) is the glue that keeps the pieces from flying apart like two magnets whose north poles are brought together. Beautiful scenery of a mountainous region of France serves as the backdrop for this tale of Antoine coming to terms with his heritage and learning to shoulder adult responsibilities. Adding interest to the mix is a young woman, Sophie (Ludmila Ruoso), who accompanies him to the countryside even though they are not lovers. There is delight here in abundance, from the interaction between the two young people, and between Antoine and the many elderly people served by a van that traverses the countryside, sort of a mobile grocery store. A simple treatment of a young man's journey to maturity that is all the more beautiful for its simplicity.
Mark Abell
Super Reviewer
½
A little french film from the independent series of films, The Butcher's Son is predictable, never goes beyond exactly what you'd expect, and yet the end result is a pleasant experience. The lead character goes from living life in the city alone, to working at his parent's grocery in the countryside, delivering goods to elderly people in the mobile grocery van (after his father has a some sort of attack and has to go to the hospital). In his city apartment, the girl across the hall, whom he has eyes for, comes with him to the country in order to study for her big entrance exams to college, and of course it's only a matter of time before they fall in love. The lead character is an emotionally detached, alienated youth who only looks out for himself, and he and his family have a great many clashes over this. It's only after driving the grocery van for a period of time that he begins to get some humility and empathy for his fellow man. As I said before, the film is predictable, doesn't take any risks, and had it been made in Hollywood, it most likely would've starred Sandra Bullock. And yet, I don't hold any of this against it. It may not hit the high note, but it's not necessarily trying to. The beautiful scenery and quirky cast help make this film a pleasant diversion.
Devon Bott
Super Reviewer
Amazing and beautiful cinematography. It was a very honest movie...
Leigh Ryan
Super Reviewer
Le fils de l'épicier (The Grocer's Son) Quotes
There are no approved quotes yet for this movie.