Gurotesuku (Grotesque)
(2009)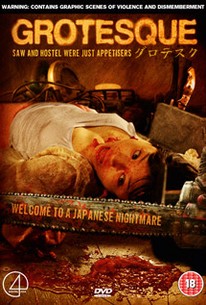 AUDIENCE SCORE
Critic Consensus: No consensus yet.
Movie Info
A maniacal doctor abducts a young couple, forcing them to endure unspeakable torments while methodically breaking their spirits until they have no possible hope for survival. Banned in the UK. ~ Jason Buchanan, Rovi
Critic Reviews for Gurotesuku (Grotesque)
All Critics (1) | Fresh (0) | Rotten (1)
'the spectacle of sadism' that so bothers the BBFC seems to be, at least in part, a cinematic metaphor for the twists and turns of a couple's journey from bodily lust to enduring love.
December 1, 2010
Audience Reviews for Gurotesuku (Grotesque)
AMAZING, So brutally graphic, twisted and entertaining as hell. Sequel Please!
Shawn Montague
Super Reviewer
½
Two words: Holy Sh!t. A very brutal and graphic film about torture. It has no plot whatsoever it's just an hour and a half of sick torture. It's sicker than any other torture porn film but the story is just - disappointing. I got to give it to them though, for making me squirm and vomit in disgust.
August Seria
Super Reviewer
0/10 "Grotesque". Seldom has a film been given such an appropriate name. Judging by that name alone, the viewer is able to determine what they will see, what they will get, and what they will remember. They might even be able to predict what the "film" will be about. The film couldn't have been named anything else. Or maybe it could have; who knows, and who cares? This is a sick, nasty, depraved, relentless horror film that I regret ever having rented or seen. I had been warned of its graphic nature, but I was open-minded, curious; willing to explore. Never have I been as sorry as I am now. I have no respect for films that exist only to provide what is the complete opposite of entertainment. Often are the misogynistic, violent, sadistic, and even racist; but rarely are they smart or watchable in any sense of the word. In fact, I had a hard time watching "Grotesque" even if it has the sort of shock value that should keep my eyes glued to the screen. Sometimes, sleaze can become guilty entertainment, and sometimes, it can just go beyond its original definition and become something far nastier and joyless. This is a film that should have been disowned, burned, and unreleased. Why it wasn't is beyond me. Perhaps some people get off to this sick shit. But I do not. What's worse than a film that goes beyond depraved and becomes something far more intellectually insulting and sensory assaulting? A film with all those qualities that makes no attempts to develop its heroes and villains whatsoever. "Grotesque" gets right to the point; we see the couple - who are at the center of the madness soon to unfold - walking down the street, entering dark areas, and then they are presumably knocked-out and snatched by a seen-yet-unseen assailant. He drives them over to his place, which, unlike the villainous character, is just plain unseen. It is there that he proceeds to torture, humiliate, and mutilate these two innocents; and all for the pleasure of his own selfless, inhuman being. He's a real, genuine psychopath; and this movie has the same state-of-mind and thought process as he does. It gets to the meat and sticks to the meat; its mind is ALWAYS on the meat. And as far as exposing the meat and its sacred bits goes, "Grotesque" can be called effective and disturbingly good at what it does. The filmmaker knew what he wanted to make and who he wanted to make it for; he was nihilistic as far as what the detractors and critics thought of his monster. The film has one purpose, and one purpose only; to show what it shows. The couple suffers many brutal torture exercises meant to excite the antagonist both sexually and mentally. He operates as those who enjoy this film do. They might even identify with who he is and what he does. I could care less about "relevance". I'm going to skip through the substance, just as this film does, and get straight to the point; "Grotesque" sucks. It was boring, it was unwatchable, it was sick, and it's attitude of apathy is anything but appealing. I will never watch it again. Yet, to make horror such as this authentic and affective, a director must exercise craft; and the director of the film, Koji Shiraishi, certainly does. The atmosphere is moody. The cinematography actually isn't all that bad. And finally, the acting makes the horror feel realistic and even all-the-more brutal. It's hard to take, and while it may indeed be genre filmmaking with a message, it does not have morals and it does not have any redeeming factors. And if it does have these messages that I speak of, then it just makes the film all the more pretentious. As of now, I'm wondering why I keep calling this "thing" a "film". It doesn't deserve to be called this. It does not have the necessarily amount of substance or meaning to be art; since film, as we know, is an art. "Grotesque" is pornography at its glossiest, and horror at its most ultimately unbearable. I loathed the experience of sitting through this crap so much that I decided to skip through most scenes; only stopping to view the infamous ones, in an attempt to "feel something". Oh, I felt something alright. And it was vomit, sweat, a headache; all ready to raise hell upon my body. At that moment I decided; "Grotesque" lives up to its name and will please those who like to feel this way. But whether it works or not, for what it is, was not of my concern. It deserves not a score, not a few stars, and not a rating. It cannot be criticized by numbers or by the usual "figures". A review should be enough.
Ryan Marshall
Super Reviewer
Gurotesuku (Grotesque) Quotes
There are no approved quotes yet for this movie.