Happiness Runs
(2010)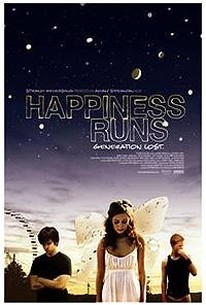 Movie Info
A young man raised in a polygamous cult struggles to escape with his childhood love. Victor (Mark L. Young) may have been raised in a hippie commune, but he never bought into the philosophy laid out by shady guru Insley (Rutger Hauer), who uses a technique called "running" to entrance and seduce his devoted female followers. Becky (Hanna Hall) was fortunate enough to get out of the cult while she was still young, but now her father is terminally ill and she must return to care for him. Victor has always loved Becky, and now he's being haunted by psychic visions of her untimely death. Meanwhile, the adults in the community remain blind to the damage that exposure to sex and drugs has had on their self-destructive offspring. Now Victor wants out, and he wants to take Becky with him. In order to finance their flight, he starts selling pot. When that plan backfires and Becky falls into a downward spiral, Victor resorts to desperate measures in a last-ditch effort to save her life. ~ Jason Buchanan, Rovi
Critic Reviews for Happiness Runs
Audience Reviews for Happiness Runs
Disturbing, uncomfortable, and somehow pervasively dull. I kept waiting for an actual plot to develop, but it never really does.
½
i actually enjoyed this film. centered in a hippie utopia that's not exactly the way of life for the kids growing up in it, lotsa drugs and sex.....but yet this still resembles a white suburban melodrama. tries a little too hard at times but still worth a watch.
JJ Last
This movie is a waste of time. Happiness Runs lacks substance and likable characters. You feel very little sympathy for the characters as they live their wretched lives. All this movie is truly about is sex, drugs, and alcohol. There is not one scene that does not include at least one of these topics. It is often unpredictable, but in its case it is not a good thing because the result is never interesting or a triumph for the character. The other bad thing about this movie is that nothing is truly resolved. This film also tries too hard to be profound causing it seem like a drawn out mess. You should not watch Happiness Runs! 1.8/10
Conner .
Happiness Runs Quotes
There are no approved quotes yet for this movie.
Discussion Forum
Discuss Happiness Runs on our Movie forum!