Hardbodies
(1984)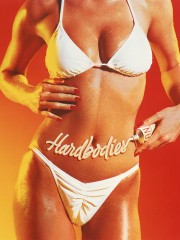 AUDIENCE SCORE
Critic Consensus: No consensus yet.
Movie Info
Three middle-aged men take off for the beach in search of sex and happiness in this comedy that does not think much, and so it partly is. When the three older men arrive at the sea and surf, sex is not exactly forthcoming because they have lost the knack of picking up women. Enter the local hunk Scotty (Grant Kramer) who brings them up to speed, and, voilą, the men are miraculously able to overcome their obvious flaws and attract the younger women they desire. Even though they are together, the three men are not alike -- Hunter (Gary Wood) is a dedicated lecher and when he gets involved with Scotty's girlfriend Kristie (Teal Roberts), trouble starts to brew. Rounder (Michael Rapaport) is likeable and funny, and Ashby (Sorrells Picard) finally opts out of their joint venture. Most of these characters and their sexual hang-ups and interests and humor soon pale like a tan in winter, long before the last sunset has faded into night.
more
Sony Pictures Entertainment
Cast
News & Interviews for Hardbodies
Critic Reviews for Hardbodies
All Critics (1) | Top Critics (1) | Fresh (0) | Rotten (0)
Audience Reviews for Hardbodies
A.D. Villarreal
Super Reviewer
Hardbodies - Cinematic Masterpiece
This 1984 classic exceeds all expectations - the story never takes itself too seriously and holds up just as well today as the day it was made - this movie has a lot of good laughs and one liners - also, Steve Gold should have won an Academy Award for his portrayal of "Farnsey", a scene stealing, robe wearing, toupee loving womanizer who is introduced during the film's final act
J Martin
½
I have no idea how or why this came up on my Roku recommendations, although I thought it might provide some nostalgic, 1980s campy fun complete with gigantic boomboxes, roller skates, terrible fashions and even worse hairstyles. It wasn't fun. It's painful to watch three middle actors playing caricatures making complete asses of themselves. I was embarrassed for them just watching it. I gave it the extra half-star for all the shapely bare breasts, but this film proves that there is indeed "too much of a good thing." Just like gorging yourself on [insert food vice here], it just leaves you feeling indifferent at best, queasy at worst. I know movies like this are supposed to be fluff and aren't intended to provoke thought, but it didn't quite have to be so vapid and unsubstantial.
Aaron Hilbun
Discussion Forum
Discuss Hardbodies on our Movie forum!
News & Features