Hatchet for the Honeymoon (Il rosso segno della follia)
(1970)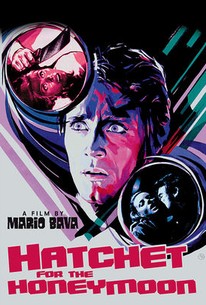 Movie Info
Rosso Segno Della Folia, an Italian horror film written, directed and photographed by Mario Bava, is the bloody story of an impotent man who turns to murder to vent his frustrations. The designer and owner of a fashion design business (Stephen Forsyth), frustrated with his own sexual failure, murders the new brides who have modelled his fashions. When he decides to murder his wife, she becomes the ghost who will not leave him alone. Director Bava, who began his career as a cinematographer, while directing mostly low-budget horror films, has become a cult figure among some fans and critics who admire his unique and beautiful visual style and his often very amusing exaggeration of the cliches of the genre. Rosso Segno Della Folia, released in the United States as Hatchet for a Honeymoon is not the best of Mario Bava's work, but this above-average horror film is a must see for those who love the genre and admire stylish horror films. ~ Linda Rasmussen, Rovi
Critic Reviews for Hatchet for the Honeymoon (Il rosso segno della follia)
Audience Reviews for Hatchet for the Honeymoon (Il rosso segno della follia)
I was extremely surprised with the quality of this film. Mario Bava has created a flawless production. His use of colour is second to none. The sets and lighting are also top notch, conveying an eerie mood. Some lovely point of view shots are also utilized by Bava. This film tells the story of John Harrington, who runs a fashion house specialising in bridal wear. He is unhappily married to his overbearing wife Mildred and he is also insane. I would hesitate to call this a Giallo movie as the killer is revealed at the beginning of the film. This is more of a character study of the killer and his journey into madness. For those interested in thrillers and atmosphere this comes highly recommended. Far better than Bavas better known Bay of Blood, which i found rather cheap looking in comparison. This is a classic of Italian cinema. Highly recommended.
Cassandra Maples
Super Reviewer
½
I loved the story and the main character, he's not just a serial killer, he's a serial killer who tries to figure out why he's a serial killer. Great direction and style from Bava. I really liked this movie, and I highly recommend it to horror fans.
½
A bit cliched story wise, but visually interesting.
Hatchet for the Honeymoon (Il rosso segno della follia) Quotes
There are no approved quotes yet for this movie.