Hatching Pete
(2009)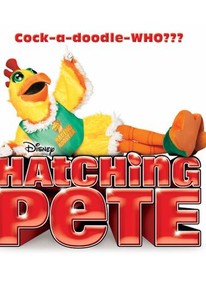 AUDIENCE SCORE
Critic Consensus: No consensus yet.
Movie Info
A teenage zero becomes a high school hero after secretly becoming the school mascot at the behest of his best friend. Unable to carry on the family tradition of being the Hondo High School mascot due to the fact that he's allergic to the costume, teenager Cleatus Poole (Mitchel Musso) quietly recruits his best friend Pete (Jason Dolley) for the job. Reluctantly agreeing with the strict understanding that their pact will remain a secret, Pete dons the Chicken costume and goes to work. At first, painfully shy Pete isn't sure he's up to the task, but before long he's got the whole school cheering. The anonymity of the Chicken suit allows Pete to let go of his insecurities and embrace a newfound freedom, and as a result, a whole new personality begins to emerge. Trouble is, back in the classroom no one even knows his name. Now, as the students rally around Cleatus under the assumption that he is the Chicken, Pete must decide whether it's finally time to reveal the truth, or keep his beak closed and maintain the elaborate ruse.
Critic Reviews for Hatching Pete
There are no critic reviews yet for Hatching Pete. Keep checking Rotten Tomatoes for updates!
Audience Reviews for Hatching Pete
It really is a shame that Disney refuses to release films that are a little edgier for young adults, because sometimes, they really do come up with a good story. The problem is that by the time they are done dumbing it down and disnifying it, the once promising story becomes a joke. that only 10 year olds seem to get. Hatching Pete is one of these film that have a really terrific storyline. With a little more realism and a little less Disney, it would have been a really spectacular film. Hatching Pete features two best friends, Cleatus (Mitchel Musso) and Pete (Jason Dolley) who are complete opposites. Cleatus is so outgoing that he is actually his local High School's mascot, while Pete is a loner, scared of his own shadow. One day Cleatus is injured and Pete sees that as an opportunity to get close to the girl he is afraid to talk to, so he takes his place as the mascot. When one is infatuated with a girl, it will drive them to do anything, and Pete puts on a hilarious show, that even inspires his team, the worst basketball team in the state. Cleatus quickly becomes a school celebrity and a target of bullies, but once it's discovered he's not the one inside the costume, the question becomes who is the mascot? The story was a really good mix of comedy, coming-of-age drama, and athletic competition. At it's core, I really did enjoy this film, but ultimately all the Disney crap manages to diminish it's quality. As for the cast, it's you're usual Disney cast, filled with a lot of beautiful people, only a couple of whom can actually act, and the star of this film is Jason Dolley. I always wondered why Disney keeps putting this kid on show after show, but now I know, he actually has some talent. He was charismatic and showed terrific range going from one personality to another in a relatively short time. While Dolley was fun to watch and even gave me a few laughs, the rest of the cast wasn't much to right home about. Hatching Pete is a terrific film for kids and some young adults, and while it has a story that adults would like, the Disney factor makes it somewhat unlikely that most will.
Todd Smith
Super Reviewer
Why do I keep watching these poor Disney Channel movies? I don't know. I just do! This one, which has an incredibly stupid title of "Hatching Pete", is one of the Top 5 worst films this network has released. It has a poor premise, horrid acting, annoying, unoriginal, bad music, and extremely unfunny. They're trying to make us giggle with the fact that the school mascot is a chicken. Really, a chicken? What were the writers smoking? One of the worst films ever. I feel dirty just reviewing this. This perfectly describes the chicken character: http://www.youtube.com/watch?v=cjvwKY24bXc
Bentley Lyles
Super Reviewer
Hatching Pete Quotes
There are no approved quotes yet for this movie.