Hateship Loveship
(2014)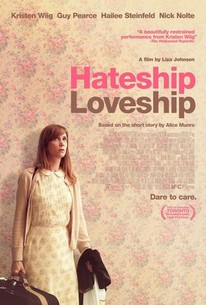 TOMATOMETER
AUDIENCE SCORE
Critic Consensus: Kristen Wiig's vibrant performance is almost worth the price of admission -- and it has to be, because Hateship Loveship doesn't have much else going for it.
Movie Info
Johanna Parry (Kristen Wiig) is a profoundly shy, unadorned woman who is hired by Mr. McCauley (Nick Nolte) as a housekeeper and a primary caregiver to his granddaughter Sabitha (Hailee Steinfeld). Despite her outgoing nature, Sabitha carries wounds from the death of her mother years before, complicated by the circumstances of that death for which her grandfather still blames her father, Ken (Guy Pearce), a hapless recovering drug addict with a certain ragged charm. In an act of mean-spirited rebellion, Sabitha uses technology to foster a pseudo-relationship between Johanna and her father, never dreaming of the potential harm to either party. Sabitha doesn't understand that Johanna is not a demure cut-out, but rather a woman for whom the phrase "still waters run deep" could have been coined. The young girl's interference provokes Johanna to indulge in something long missing from her life: the dream of a future and a home of her own. (c) IFC
People Who Like this movie also like
News & Interviews for Hateship Loveship
Critic Reviews for Hateship Loveship
Audience Reviews for Hateship Loveship
Takes an Alice Munro story and makes it a Sam Lipsyte one, undoing itself with an increasingly implausible plot and acting that's too understated.
Daniel Perry
Super Reviewer
Last summer I watched a film already forgotten by most called Girl Most Likely in which Kristen Wiig essentially portrayed the same person she did in 2011's Bridesmaids. One hates to keep bringing up old news and as much as I and surely many others appreciate Wiig not easily folding and returning to do a Bridesmaids sequel for little more than financial reasons I'd at least hoped she might take another shot at a big studio flick that let her have a good portion of creative control, but since her starring break-out Wiig has done little to further her star in the mainstream save for a few supporting roles and voice work, but mainly she has stuck to the indie/festival circuit scene; a move that can be easily admired, but may force Wiig's leading lady career to run its course quicker than anyone would have anticipated three years ago (and maybe that's not what she wants, fair enough). My point being that even though Wiig could have done as many before her and quickly found her niche through a series of hits and misses she has instead opted for the relatively newer, more credible route of starring in smaller films that not many will see, but for one reason or another will make Wiig feel better about what she is contributing to the arts at the end of the day. And though I may have personally preferred to see Wiig go the big, mainstream route and create a filmography all her own of giant successes and notable titles she has instead amassed a resume of TV show appearances and movies such as Hateship Loveship that show the broad comedian of Saturday Night Live has more to offer than simply being the most ridiculous or outlandish person in the room. In the case of this latest film what we have is a rather droll experience. It is both engaging yet unappealingly odd in the way that we want to become invested in the story because we feel a compassion for Wiig's character, Johanna, but she remains so distant from everyone, never really opening up despite the arc of the narrative focusing on her finding a slight bit of happiness in what feels like an overwhelming world to her fragile self. It is these characteristics that allow Wiig to play a different kind of person than we've seen her as before. There are many things to enjoy, to smile at about the film while also being unusual to the point it seemed I should be cautious about it, keeping my own distance, which ultimately left me feeling somewhere in the middle about the experience as a whole. read the whole review at www.reviewsfromabed.net
Philip Price
Super Reviewer
Hateship Loveship Quotes
There are no approved quotes yet for this movie.