Head Office
(1986)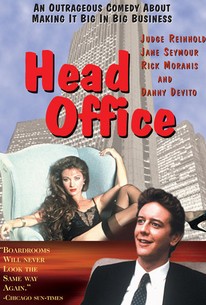 Movie Info
Judge Reinhold stars as Jack Issel, a fresh-faced business-school grad who begins working for a huge multi-national corporation in this satire of business and industry.
Rating:
PG-13 (adult situations/language, nudity)
Genre:
,
Directed By:
Written By:
In Theaters:
On DVD:
Runtime:
Studio:
HBO Video
Critic Reviews for Head Office
Audience Reviews for Head Office
½
A poorly made film that feels like it was on a low budget even though there are some well-known actors. I didn't find anything about it funny and wouldn't say it is worth watching. (First and only viewing - 2/18/2016)
Adam R
½
In the first few minutes, when you're still not quite sure what's going on, the big business satire "Head Office" buzzes with an undeniable, frantic energy. We are introduced to a great supporting cast of characters, played by some very funny character actors like Rick Moranis and Danny DeVito. Unfortunately, they are both killed off very early on and the rest of this becomes a forgettable and generic comedy that was all-too-typical of the decade. The rapid-fire pacing of the opening is lost and this settles into familiar territory, complete with a boring love story and a ridiculous amount of nondescript '80's synth music on the soundtrack. Judge Reinhold is a likable enough guy, and can be quite funny in the right role, but he was never cut out to be a leading man and the reason for that is painfully obvious here. In fact, I couldn't help but wonder why the built the entire movie around him because he plays the least interesting character in the film, especially when the entire cast is still alive. The central storyline that emerges, about a naive corporate executive with a heart who wants to do what's right, is just as uninteresting but the biggest problem is that this is a comedy that fails to generate a single laugh. Writer and director Ken Finkleman's last failed project was "Airplane 2", but at least that had jokes. This is more of a situational comedy in which the situations aren't inherently funny. The bland title should clue you in to just how dull "Head Office" is. After an energetic start it goes awry quickly and settles for being just another forgettable romantic comedy.
Timothy Sanders
Surrealist comedy about Corporate America... Yet, there's no laughs to be found. Sad given the cast with very minor roles.
Robert I (Master of All Movies)