Heartless
(2010)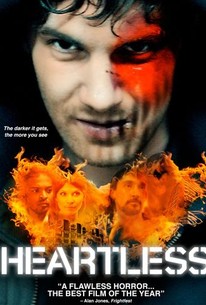 Movie Info
Jim Sturgess (21, ACROSS THE UNIVERSE) leads a hugely-talented ensemble cast in this sublime British psychological thriller from cult UK director Philip Ridley (THE REFLECTING SKIN, THE PASSION OF DARKLY NOON), who returns to the screen after a 14-year absence. The film follows Jamie Morgan (Sturgess), born with a disfiguring birthmark across his face, which leaves him an outcast in rough East London. While wandering abandoned yards taking photographs, he comes across a gang of thugs and soon discovers that they are something other than human. He then is led into a Faustian deal that will see him become a party to the terrifying chaos around him. Part DONNIE DARKO, part Guillermo del Toro, this dark urban tale takes its audience to the darkest and most violent corners of the human heart. The film also stars Clémence Poésy, Noel Clarke, Joseph Mawle, Eddie Marsan, Luke Treadaway and Timothy Spall, and was produced by Pippa Cross and Richard Raymond. The film recently won the Best Independent Film Award at the Toronto After Dark Festival. -- (C) IFC
People Who Like this movie also like
News & Interviews for Heartless
Critic Reviews for Heartless
Audience Reviews for Heartless
The first 2/3'rds of this movie was very interesting, different, and unusually intriguing. After that, however, it took a nose dive into "huh?". I wasn't at all getting where they decided to take the story..what happened, why it happened, or what any of it meant. Too bad....
Cynthia S.
Super Reviewer
½
A British thriller about a young man who has a birthmark across his face and body, everyone stares at him as shun's him no matter what he does or where he goes, father dead passing on the hobby of Photography to him. While out shooting pictures he stumbles across so deamon like creachters. We would also do anything to be loved by a beautiful girl. Doing anything means making a pact with the devil, the pact is he must kill someone once a month or face the consequecis. Pretty good thriller, 3 1/2 stars
Bruce Bruce
Super Reviewer
½
Heartless is the B-Movie Arthouse film that takes on a unique interpretation to one's sense of reality with bizarre details both in production design and the protagonist's outlook. This imaginative script has the potential to go more deeply in to it's essence of darker urban horror and psychological feats. But nonetheless, it's a good watch of a thriller that nowadays are lacking.
Jakey Labios
Super Reviewer
Heartless Quotes
| | |
| --- | --- |
| Jamie: | Digital photography is a rough sketch... but film? Film is like... |
| | |
| --- | --- |
| Weapons Man: | Ah, my wife would like that... She's got me to redecorate our bathroom. Wife wants it done out with gold taps and marble floor. That's fake gold and marble, needless to say. Still cost a fucking arm and a leg, though. Not to my taste. Looks like the fucking Palace of Versailles, want my opinion. Soaks herself morning, noon and night. Lavender and Bergamot bubble bath. She says, "I feel like Marie Antoinette." I said, "Well, you know what happened to her, don't ya?" She don't. She will. I've made plans. Certain kid I know's a dab hand with a chainsaw. Beautiful weapon. And talking of weapons... Business! |
| Weapons Man: | Ah, my wife would like that... she's got me to redecorate our bathroom. Wife wants it done out with gold taps and marble floor. That's fake gold and marble, needless to say. Still cost a fucking arm and a leg, though. Not to my taste. Looks like the fucking Palace of Versailles, want my opinion. Soaks herself morning, noon and night. Lavender and Bergamot bubble bath. She says, "I feel like Marie Antoinette." I said, "Well, you know what happened to her, don't ya?" She don't. She will. I've made plans. Certain kid I know's a dab hand with a chainsaw. Beautiful weapon. And talking of weapons... Business! |