Heat Team
(2004)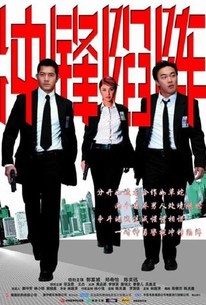 AUDIENCE SCORE
Critic Consensus: No consensus yet.
Movie Info
A notorious international thief steals a priceless diamond. Aaron Kwok, Eason Chan, Yumiko Cheng.
Critic Reviews for Heat Team
There are no critic reviews yet for Heat Team. Keep checking Rotten Tomatoes for updates!
Audience Reviews for Heat Team
½
This movie didn't really leave an impression on me one way or the other. As implied by the rating, I didn't really like it, but it's not like I was horribly offended by anything in the film. There is some really bad story progression, sometimes you have no earthly idea how something comes to be, like how does Ken Ma get injured/betrayed and when, because I certainly didn't get to see any of that. Not that I really cared to be perfectly honest with you, but I certainly noticed it. You would have to be deaf, dumb, and blind to not have noticed it. But, much like I said, I found it really, really, really hard to care about anything in this film. The film certainly has a solid cast but it's weird seeing Eason Chan play the womanizing part instead of Aaron Kwok. But maybe that was the point, get them to play against type. There's also some decent laughs, but nothing that will cause your gut to hurt or that you will remember 24 hours after watching the film. Again, there was nothing about the film that I found horribly offensive, other than its cinematography, which was pretty atrocious, but I really do not feel comfortable giving this 2 stars. I think this is a little better than 1.5, but it's not 2. That would be me being generous. A few laughs and a decent cast does not a good movie make. It certainly helps, but you need far more than that to have a good movie. That's my opinion at least. I don't mean to discourage anyone from watching this movie if they really want to, but I just didn't really enjoy it one bit. Not terrible in any way, but you could spend your time on something so much better.
Jesse Ortega
Super Reviewer
Dante Lam mixes humor and drama to put together Heat Team, and it manages to get by.
At just under 100 minutes, things begin on the right foot. The opening sequence is wildly amusing, while also briefly introducing the two lead characters. The story then pushes forward with staggered humorous sequences meshed in with what is a Hong Kong crime thriller. Adversely, as the the film goes along, it slowly loses the swagger it had going for it early on.
While showcasing its share of action pieces, there isn't anything out of the ordinary here. The fact, that some of them are laced with humor doesn't help that much. Of course, that doesn't mean they aren't entertaining.
Aaron Kwok and Eason Chan's characters play off each other nicely. The lovely Yumiko Cheng and Victoria Wu provide some eye candy to compliment the two male leads.
Heat Team works well to a point before it begins to get stale; however, in the end it is a watchable flick.
½
Ok HK crime drama..theme has been done more effectively but not a bad watch...
Heat Team Quotes
There are no approved quotes yet for this movie.