Hell or High Water
(2016)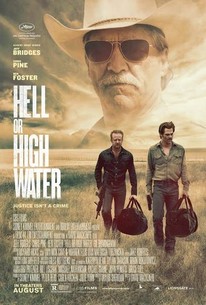 TOMATOMETER
AUDIENCE SCORE
Critic Consensus: Hell or High Water offers a solidly crafted, well-acted Western heist thriller that eschews mindless gunplay in favor of confident pacing and full-bodied characters.
Hell or High Water Videos
Hell or High Water Photos
Movie Info
Texas brothers--Toby (Chris Pine), and Tanner (Ben Foster), come together after years divided to rob branches of the bank threatening to foreclose on their family land. For them, the hold-ups are just part of a last-ditch scheme to take back a future that seemed to have been stolen from under them. Justice seems to be theirs, until they find themselves on the radar of Texas Ranger, Marcus (Jeff Bridges) looking for one last grand pursuit on the eve of his retirement, and his half-Comanche partner, Alberto (Gil Birmingham). As the brothers plot a final bank heist to complete their scheme, and with the Rangers on their heels, a showdown looms at the crossroads where the values of the Old and New West murderously collide.
News & Interviews for Hell or High Water
Critic Reviews for Hell or High Water
Audience Reviews for Hell or High Water
½
Scottish director David Mackenzie has steadily been making a name for himself over the years with some strong, low-key work in his native Scotland; Hallam Foe, Young Adam and, especially, Perfect Sense showcased his obvious abilities. It would seem that it was his superb prison drama Starred Up in 2013 that caught everyone's eye, though. Hell or High Water now sees him taking his first venture onto American soil but it doesn't hinder his abilities in the slightest. If anything, it has proven that Mackenzie is a director of genuine quality. Plot: Needing to pay off the reverse mortgage on their recently deceased Mother's ranche, brothers Toby (Chris Pine) and Tanner Howard (Ben Foster) target several branches of the Texas Midland Bank to raise the money. This invites the attention of Texas Ranger Marcus Hamilton (Jeff Bridges) who is doggedly determined in tracking them down and putting an end to their spate of robberies. It doesn't take long to realise that Hell or High Water is a very different type of western. It's one that, for obvious reasons, has been labelled as a "neo-western" but it's contemporary nature is the very angle in which it's able to fully explore its themes. The west has changed and the end of its way of life is fast approaching the characters of Taylor Sheridan's dense script. He makes regular mention of the passage of time, ever changing landscapes and epoch's; if it wasn't the white settlers taking the land from the natives then it's the banks foreclosing on it, forcing families into debt and desperation. This is ultimately the motivation that drives the antagonists as other subtle hints on the state of the American economy are delivered under the guise of a crime/heist film. What we see on the surface of Hell or High Water doesn't begin to describe the many layers underneath. And that's ultimately what sets it apart from most other films of the genre. As mentioned, Sheridan's script is multilayered and he also incorporates the themes of brotherly love, loss, family responsibility and ownership which are demonstrated through crisp dialogue and genuinely dramatic (and sometimes darkly humorous) exchanges between the mismatched characters. Speaking of which, the characters are authentically drawn while also excellently played by the three leads; Pine exudes a brooding intensity while Foster is allowed more room to explore the unhinged sociopath. Now that Bridges is getting older, he has pretty much mastered the surly old-codger routine and does so again with great authority and panache. There's a deliberate pace to the film, so those expecting tension filled bank robberies and high speed chases will have to be patient. These moments are provided but they come at the cost of investing your time in the characters. And it's an investment that pays off. It also helps that's its beautifully shot by Giles Nuttgens and Mackenzie makes good use of the photography and employs a meditative approach to the proceedings while showing an assured confidence in his direction. A rich and rewarding western crime story that delivers on many levels. It's broad strokes signify a maturity and that maturity is tied up with a very satisfying conclusion. Mark Walker
Mark Walker
Super Reviewer
In this account, no one person is all good or all bad. Toby and Tanner are clearly in the wrong. Yet we are given valid reasons to hate these financial institutions - the source of foreclosed houses and crushed dreams. Are these brothers a modern day Bonnie and Clyde? Or perhaps Butch Cassidy and the Sundance Kid. Not exactly, although you'd be forgiven for making the connection. Rooting for these guys is similarly problematic, but this is a tale with even deeper shades of gray. There are so many surprises. One violent altercation inadvertently provides a cogent defense for carrying a concealed weapon. The mentality of the vigilante perspective is presented so rationally, I was a bit taken aback. There's sort of an odd mix of emotion that fluctuates wildly between compassion and disgust for these lawbreakers. Sympathy turns to aversion over the course of the narrative. It's the way these little unforeseen vignettes plays out that make this character study so captivating. One of the most noteworthy dramas of 2016. fastfilmreviews.com
Mark Hobin
Super Reviewer
½
The summer movie season has never been known for its smaller films, but this summer has been pretty weak, as far as quality. Moviegoers began to hope for the more independent films to get wider releases in order to rejuvenate their love of film. Maybe it is just the fact that this summer has been so dour, but seeing Hell or High Water to cap off the summer of 2016 may just be the best thing for you. With a little bit of The Town and No Country For Old Men, this is a film that every movie lover will enjoy. It is small films like this that remind me why I love the film industry and that even the most under-the-radar films should be given a chance. Here is why I believe Hell or High Water to be one of the best films of the summer. Starring Chris Pine (Star Trek) and Ben Foster (3:10 to Yuma), Hell or High Water follows two brothers that rob banks in order to raise money to keep from losing their family ranch, after the passing of their mother. Divorced and wanting to take care of his kids, Toby (Pine) has many more things on his mind than just saving the ranch. This may seem like a been-there-done-that premise, but the fantastic performances truly make you buy into the harsh reality that these characters are facing and the chemistry between Foster and Pine leaps off the screen in a big way. From beginning to end, this film had me either on the edge of my seat or feeling emotional toward their next decision. With a very quite tone throughout the course of this film, it all comes down to whether the editor holds long enough on certain takes and whether or not the performances are aces. Luckily, with a very slim score and editing that is perfect for the tone of this picture, Hell or High Water feels unlike any films I have seen this year. Sure, most of the great stories about bank robbers will eventually have down time, leaving room for character development, but there was just something about this script that felt very soothing when there was no high-octane action in play. That being said, when the action hits, it is incredibly engaging. While this film is more about building its characters than it is focussing on its action sequences to keep its audience entertained, Hell or High Water does have its share of thrills. From well-shot chase sequences to intense shootouts, everything you hope to see when going into this film is definitely present. Once again, the action in this film is elevated by the great character development throughout the film, making you actually care who lives and who dies in the final act. Almost everyone in this film is a crooked, but they all have their reasons for doing what they are doing, and it all comes to pass in the climax. In the end, Hell or High Water benefits from a strong cast, including some great supporting roles from Jeff Bridges and Gil Birmingham. To some, this film may suffer from being a little too calming at times, making it feels slightly longer than its mere 102 minute running time, but its all worth it when the final act begins. Overall, this is a much better film than I think anyone was thinking it would be. Filled with terrific performances, thrilling action scenes, character development that feels real, and a score that is almost non-existent, making audiences quiet down as if they are actually sitting in a room with these characters, completely invested in their conversations. I loved every moment of Hell or High Water, even though it may have a few pacing issues here and there. Highly recommended.
Hell or High Water Quotes
There are no approved quotes yet for this movie.
Discussion Forum
Discuss Hell or High Water on our Movie forum!