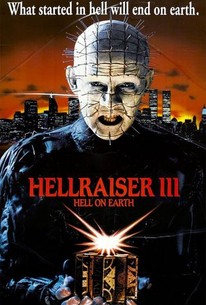 Hellraiser III: Hell on Earth
1992, Horror, 1h 33m
20 Reviews
25,000+ Ratings
Where to watch Hellraiser III: Hell on Earth
Rent/buy
Rent/buy
Rent/buy
Rent Hellraiser III: Hell on Earth on Amazon Prime Video, Vudu, Apple TV, or buy it on Amazon Prime Video, Vudu, Apple TV.
Rate And Review
Hellraiser III: Hell on Earth Photos
Hellraiser III: Hell on Earth (1992)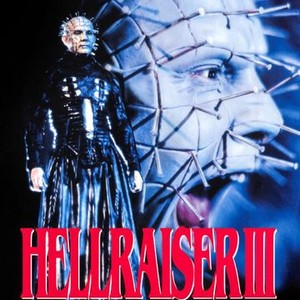 Hellraiser III: Hell on Earth (1992)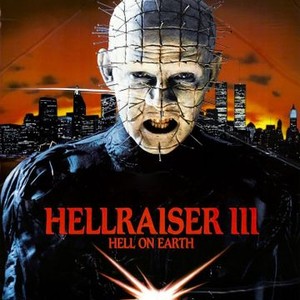 Hellraiser III: Hell on Earth (1992)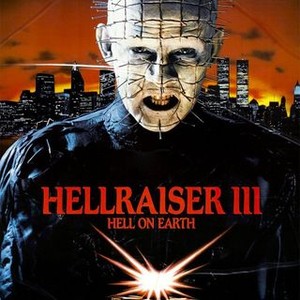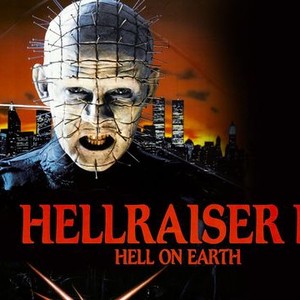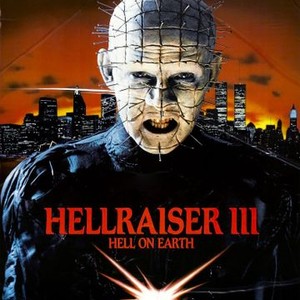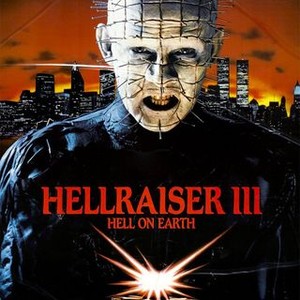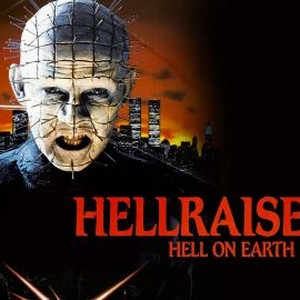 Hellraiser III: Hell on Earth (1992)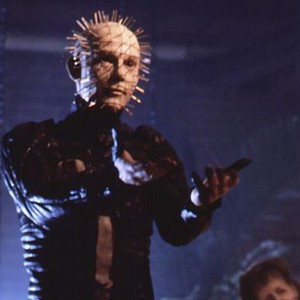 Hellraiser III: Hell on Earth (1992)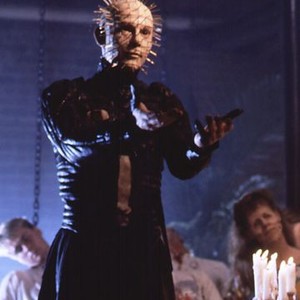 Hellraiser III: Hell on Earth (1992)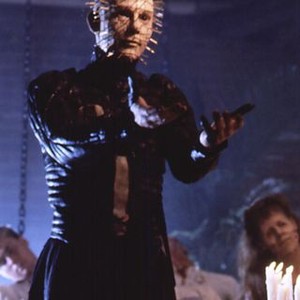 Hellraiser III: Hell on Earth (1992)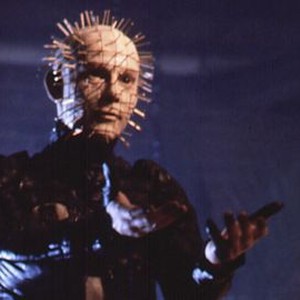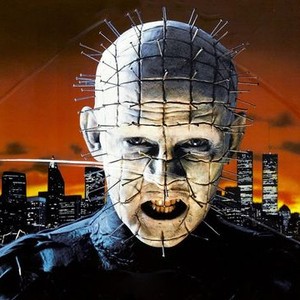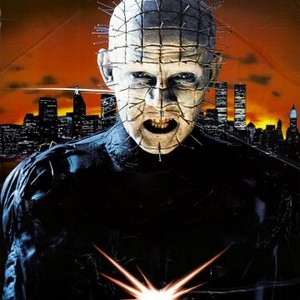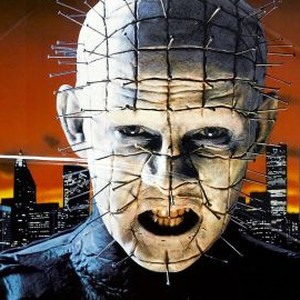 Movie Info
After learning in "Hellraiser II" that he used to be British air force Capt. Elliot Spencer (Doug Bradley) -- before he was sucked into another dimension and turned into the pain-craving creature known as Pinhead -- Spencer's soul ends up in limbo. Meanwhile, Pinhead is sealed in a column, which is bought by J.P. Monroe (Kevin Bernhardt). In a dream, reporter Joey Summerskill (Terry Farrell) learns from Spencer she must reunite his two halves to send the murderous Pinhead back to his world.
Audience Reviews for Hellraiser III: Hell on Earth
Not as terrible a movie as I would've anticipated. Of course it's not as good as the first sequel, which actually ended up being pretty good. I've always thought that Pinhead, as a horror icon, and I've already written this in my review for the second film in this franchise, has always been treated far more seriously than the Freddys, Jasons or Michaels. I'm not saying that the sequels were better in quality than some of the sequels in any of the aforementioned franchises, but Pinhead is infinitely more effective as a horror villain than because he's treated as someone that people actually fear since he will pretty much bring about, I apologize for this terrible usage of the film's title in the review, hell on earth if he does get his way. Let's just get this out of the way from the get-go, the acting in this movie is, honestly, absolutely awful. It's not like Hellraiser 2 had Oscar-quality acting, but Hellraiser 2 is Breaking Bad to Hellraiser 3's the Twilight franchise. I'm obviously overstating the point, but the acting from everyone that isn't named Doug Bradley is horrendous. Doug Bradley himself is pretty great as always, I mean the character is pretty one-dimensional itself, but this film, at least, tries to incorporate some of backstory, involving who Pinhead was before he back the leader of the Cenobites. It's weird, because it's obvious that Pinhead is a pretty nefarious and evil individual, but Doug Bradley brings a certain elegance and class to the Pinhead character, it's the strangest thing. It's not even the fact that he's well-spoken and eloquent, it's all about Bradley's presence that makes the character work even if he's not as over-the-top or as goofy as Freddy Krueger. The character designs for some of the Cenobites, not all, is excellent. Some of them are a little goofy, to be fair, like the Cenobite with the camera sticking out of one eye is pretty goofy, as is the Cenobite that spits out CDs. I think those are the ones that I liked the least, the rest of them are really well done, in my opinion. The film, leading up to the climax, honestly, isn't anything special. I mean there's some B-movie qualities to the film, you can at least laugh at the shitty acting and some of the obvious audio flaws, like trying to fit in voice overs even though the lip syncing isn't up to par. Once the shit hits the fan and Pinhead, and the other Cenobites, make their way to earth then the film really picks up. Like there's some really strong visuals here. Like Pinhead doing the christ pose in a church in front of a window with cross on it while he says 'I am the way'. That scene is probably the best scene in the entire film, but it's the type of scene that the religious conservatives will be offended by. Then again, what reason would a religious conservative have to watch this film. But, as an atheist, I have no such qualms and I thought it was a pretty awesome visual that is bound to get a reaction. I thought that if the film had been as consistently good as the climax was, then it would've been a better film. The film has some real cool moments and some surprising backstory, but I don't think there's enough 'hell on earth', so to speak, to make the film good. Not to mention the acting is fairly atrocious. With that said, honestly, I thought this movie was perfectly fine. It's watchable but not necessarily mind-blowing. I'm sure that it's considerably better than some of the later sequels, though.

Third entry in the Hellraiser series is a pretty decent film. With a pretty interesting idea for a film. Though not as strong as the first two, Hellraiser 3: Hell on Earth is still a good enough entry in the series compared the last couple of entries. Pinhead still delivers pain & pleasure and terrifies his victims. Though at times lacking in direction, and somewhat unfocused; director Anthony Hickox does a decent job at delivering a third entry. Despite its flaws, the third Hellraiser might appeal to die-hard fans of the films. The film still has enough good elements to make it a watchable horror film, and unlike others in the series; this third film is a film worth watching. The filmmakers had enough ideas to make a good third entry, and the result is a decent to good film that if you loved the first two, then you might enjoy this film. Of course this is a step down from Hellbound: Hellraiser II, but it still delivers good, chilling elements. Though it has some interesting elements, the film feels tiresome compared to Hellbound, luckily the next sequel, Bloodline would be a much successful affair. But like I previously stated, this third entry is a decent one, but at times you see that the ideas falter on-screen, and the story ends up being so-so. Still entertaining despite its flaws, just don't expect a solid sequel such as Hellbound. Watch it by expecting something decent, and you'll most likely not be disappointed. A decent story and good terrifying elements that you'd expect from a Hellraiser film keep this from being a dud.

Another entertaining adition to the series if not as fantastic as the first, it does lose some of the look and style of first two, its certainly heading into a diferent kind of horror, at least on this film. but story takes Pinhead to a interesting place and this comes of good enough. i have some faith in seeking out the rest of the series when oportunity arises

I was really disappointed in this movie. The previous two in the series set up rules and boundaries, and then this movie goes and breaks all the rules. The function of the cube is even lost. I got really confused too, and I understood the other two perfectly. The ending made the whole thing seem pointless as well. Overall, I didn't care for this one.
See Details