Hereditary
(2018)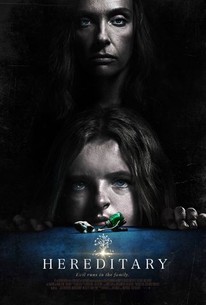 TOMATOMETER
AUDIENCE SCORE
Critic Consensus: Hereditary uses its classic setup as the framework for a harrowing, uncommonly unsettling horror film whose cold touch lingers long beyond the closing credits.
Movie Info
When Ellen, the matriarch of the Graham family, passes away, her daughter's family begins to unravel cryptic and increasingly terrifying secrets about their ancestry. The more they discover, the more they find themselves trying to outrun the sinister fate they seem to have inherited. Making his feature debut, writer-director Ari Aster unleashes a nightmare vision of a domestic breakdown that exhibits the craft and precision of a nascent auteur, transforming a familial tragedy into something ominous and deeply disquieting, and pushing the horror movie into chilling new terrain with its shattering portrait of heritage gone to hell.
News & Interviews for Hereditary
Critic Reviews for Hereditary
Audience Reviews for Hereditary
Creepy and though it's long, doesn't drag and holds your attention. Cast are great in this.
Nicki Marie
Super Reviewer
½
INHERIT THE WOUND - My Review of HEREDITARY (3 1/2 Stars) It's rare these days to see a horror movie without the jump scares, hurried editing, and insane CGI third act nonsense. Think back to the classics, such as ROSEMARY'S BABY, DON'T LOOK NOW, THE SHINING, and THE EXORCIST, all of which took their time with characters, had a mounting sense of dread, and featured completely practical effects. One could even fairly say that DON'T LOOK NOW isn't really a horror film except for possibly the most soul-shaking, final moment jump scare in cinematic history. Ari Aster, in his feature debut, has obviously studied these classics, pouring so much of what makes them great into HEREDITARY, and as such, he's been hailed as the second coming of M. Night Shyamalan, but without the narcissistic cameo appearance. It's certainly an auspicious debut, and with his keen understanding of breathing room, mounting tension, composition, and a stellar use of sound and music, he certainly has the goods. Bonus: He gets an unforgettable performance out of Toni Collette. So why didn't I like this movie more? Let my spoiler free review do the work. Set shortly after the death of Annie's (Collette) mother, we meet her not-so-grieving family, affectless husband Steve (Gabriel Byrne), sullen stoner teen son Peter (Alex Wolff), and disturbed, recessive, tongue-popping daughter Charlie (Milly Shapiro). Grandma, it turns out, didn't exactly possess the warm and fuzzies, so nobody's crying too hard over her loss. Still, a pall hangs over the air in their Utah-based, gorgeous craftsman home, complete with a sky-high treehouse. It's hard to put a finger on what's ailing this family. Annie makes miniature dioramas of her family's history and doesn't earn her husband's confidence that she'll finish in time for a big gallery showing. The opening shot of these miniatures effortlessly gives way to their real world settings, bringing home the metaphor that this family is controlled by outside forces. Peter shows typical teen angst while Charlie, in a world of her own, makes frequent clucking sounds as she beheads animals to make creepy statuettes out of them. Clearly no good will come out of this warped family dynamic, which appears to be rotting from the inside. Then, out of nowhere, tragedy strikes. It's gut-wrenching, caught me totally off guard, and will stand the test of time as one of the great horrific moments in cinema. The grief that follows, however, threatens to swallow the film whole if it weren't for the great performances all around. From this point forward, despite the fact that the film has its share of frightening moments, chills, and utter dread, the film turned into a somewhat empty exercise, sometimes tedious, but still creepy as hell. I had trouble at first putting my finger on why it wasn't working for me, when moments from THE EXORCIST and THE SHINING kept coming to mind. William Peter Blatty knew what he was doing when he made Ellen Burstyn's character a prickly film star. She's established in the early scenes as prickly, impatient and easily flustered. Part of the horror of THE EXORCIST emanates from her discomfort as a human being, so when her daughter gets possessed by a demon, you have this very vivid character reacting with everything in her stable of emotions. Same goes for THE SHINING, where in a stunning early scene, Shelly Duvall's character lets her cigarette burn too long without flicking the ashes as she tells a story which shows she's in denial about her abusive husband. The characters' intense back stories strengthen the terror to come because we know their blind spots. With HEREDITARY, we just don't get enough detail about these people, so when they stare at things in anguish (which happens a LOT in this film), we're seeing an idea of great horror but not feeling anything specific. THE SHINING famously used these same silent scream close-ups to great effect, because we knew so much about their characters. The cast here has to do a lot of screaming and crying, and as fantastic as they are at these emotions, they're all fairly close to being ciphers. It's not enough to wreck the film, but, to me, it keeps it from being truly great. So much of the films works. Having Ann Dowd in any cast is always a big plus, and she definitely knows how to make friendly, casual conversations in to something more worrisome. Aster introduces elements of the occult and the supernatural into the film in a similar fashion to ROSEMARY'S BABY. We also have scary flames and things crashing through windows, which serve as EXORCIST signposts. It all works and is sometimes truly frightening, and much of the credit goes to Collette's commitment to the bursts of grief and moments of clarity her character navigates. She's just great. Wolff has some incredible scenes, especially one in a car which feels so personal that we shouldn't even be watching. That and the sequence preceding it is one of several classic moments. Nothing in Cinematographer Pawel Pogorzelski's credits prepared me for his great work in this film, displaying a keen understanding of negative space and offscreen tension. Credit goes to the Editors, Lucian Johnston and Jennifer Lame, who know just when to reveal something creepy and when to hold back. Colin Stetson also contributes greatly with his truly unnerving score. The film goes off the rails in its third act, and many will shrug at its truly bizarre ending. Personally, I like where it went, daring to be completely out there, if only it had given us a little more to chew on with character minutiae. It's a bit of a swing and a miss, but I appreciate a film that goes for it, regardless. It's a film about grief, and as such, has its pretensions and lacks humor. Aster has provided us with many indelible moments, but next time out, I hope he rounds out his characters just a little bit more.
Glenn Gaylord
Super Reviewer
Movies like Hereditary don't come around often enough, and that's sadly due to the fact that audiences usually don't flock out to see films that look abstract. Horror films have been on a very big high over the last few years, giving us thrilling films like Get Out or Don't Breathe, or more recently, the fantastic movie A Quiet Place. The latest wide release in this genre comes in the form of A24's Hereditary. This studio is known for releasing superb content but mostly goes under the radar. While this film surely isn't for everyone, the sheer originality behind it makes it well worth seeing in theatres. From its atmosphere to its creepy imagery, to the downright unnerving performances, here's why Heredity should be on your list of thrillers/horrors to see. The plot of this film itself is a spoiler, so I'm going to dance around that a bit here. The Grandmother of the Graham family has passed away and they're slowly trying to recover from that tragic event when surprises and secrets about their lineage come to light. That's about as simple as the plot can be put without having seen the film. The originality of the film comes in the form of the premise that has to be undisclosed until you see the film for yourself. I thought I knew what this film was going to be like when watching the trailers, but trust me when I say it's not and you're either going to love or hate the routes that this movie takes. For a film like this that relies so heavily on a family aspect, the performances need to be top notch in order to hold my interest. Toni Collette has been an actress that I've kept my eye on over the years, as I was positive she would eventually blow me away. Hereditary is absolutely that performance in my opinion. Yes, Milly Shapiro is great and Alex Wolff has his moments, but Collette acts circles around everyone throughout this film. She brought me to tears, had me gasping for air when she was monologuing, and frankly had my jaw on the floor with how realistic her performance was from beginning to end. Never breaking characters and truly making me believe I was watching a troubled mother, she sucked me right into the atmosphere of the movie. I've been hearing nothing but praise for this movie and while it definitely deserves to be talked about, I definitely had some issues with it. At times it does feel like a generic horror flick in the way that it presents certain spiritual elements or supernatural storylines, but if you can suspend your disbelief or just happen to believe in certain things, then you may be fine. I was easily able to attach myself to what was happening, but it felt like a tonal shift at times. On top of that, this movie asks a lot of you throughout the final act, which I absolutely loved, but I didn't feel quite satisfied. There is a lot of effort put into this film in terms of its cinematography and dark themes (which I have to commend), but I find myself continuously questioning certain things long after my viewing of the film. Normally I would love that, but the more I think about it just makes me wish for a slightly different ending. Hereditary is a very ambitious movie in the way that the story continues to surprise you and I personally loved watching every second of it, but looking back on the movie as a whole, I just find myself wondering if I'll ever want to watch it again. There are some very disturbing images spread throughout the film and I genuinely had goosebumps on multiple occasions, but where the film ends up throughout the conclusion left me slightly unsatisfied. This is a fantastically constructed film from start to finish, but it's not for everyone and I can see many people finding aspects of this film humorous if they're not buying into it. For myself, it's a great movie that deserves to be seen, but be ready for gruesome images, supernatural turns, and some bizarre and surprising moments.
Hereditary Quotes
There are no approved quotes yet for this movie.