Hey Hey It's Esther Blueburger
(2008)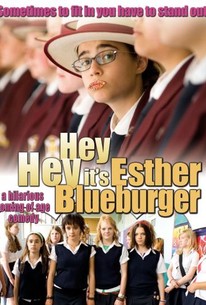 Hey Hey It's Esther Blueburger Photos
Movie Info
Two girls swap schools and experience some unexpected ups and downs in this coming-of-age comedy from Australia. Thirteen-year-old Esther Blueburger (Danielle Catanzariti) is a geeky misfit attending an upscale private school for girls, where she blends with the rest of the students like oil and water. Esther's parents, Grace (Essie Davis) and Osmond (Russell Dykstra), have little concern for or understanding of her problems, and they're far more interested in her twin brother, Jacob (Christian Byers). After being humiliated at her bat mitzvah, Esther wanders off and meets Sunni (Keisha Castle-Hughes), a 17-year-old high school student with a spunky attitude and little concern about what others think of her, an outlook encouraged by her mother, Mary (Toni Collette), who makes a living as an exotic dancer. When Sunni discovers how unhappy Esther is at her school, she hatches a plan for Esther to attend her public school by pretending to be a Swedish exchange student. This goes over just fine at first, and Esther is welcomed warmly by her new classmates, but she discovers hanging out with an older crowd forces her to face some important new decisions, and she attracts the attentions of a boy who wants a more mature relationship than Esther can handle. Hey, Hey, It's Esther Blueburger was the first feature film from writer and director Cathy Randall.
Critic Reviews for Hey Hey It's Esther Blueburger
Audience Reviews for Hey Hey It's Esther Blueburger
Slow to get into, and not overy realistic, but it is quite a sweet film. If you're looking for a more realistic bullied teen film, I would recommend Welcome to the Dollhouse. I just didn't buy that the "cool" girl would find this kid amusing and take her under her wing as she does. *********i just rewatched this a few years later. Actually, I picked up an ex rental for $2. What can I say, I'll be donating it back to the Sammy's shortly. Original review stands, yes, it is sweet, and the cast are good, but it's wholly unconvincing, more so the second time around, and if I never have to hear that Blueberger "poem" - not once, but twice - I will be quite happy. It really is ridiculous and makes Esther seem like she is special needs. Yet we are supposed to think the cool kids admire that. Yeah right.
Nicki Marie
Super Reviewer
½
Interestingly enough, a lot of people did not like this movie... and I am not sure why! It is a sneak peak in a life of a girl who is not very popular in an exclusive private school... a girl who will do anything to change that! It is awkwardly charming coming-of-age story about a "docile young dweeb who mixes with the cool kids, becomes an overnight badass, then gets seduced by the dark side of being popular". Someone wrote those words and I have to adopt them! There is no other way describing this Australian film for a whole family! It had a potential to become just one of the many cute and fuzzy teenagers flicks but the director and the screenwriter Cathy Randall skilfully turned it into a cautionary device for the realities of the 'real' life. "Hey Hey It's Esther Blueburger" is definitely full with bumbling charm and it will please the teenagers audience with its giggly appeal. There were few odd scenes but mostly this invigorating movie strikes balance between comedy and drama. Main role of Danielle Catanzariti was very well done regarding the complexity of her personality in this movie, and Keisha Castle-Hughes, star of Whale Rider, fits in her role naturally. Watch it and fully enjoy it!
½
hmmm. It had its moments, I guess...hence the extra half star.
Cynthia S.
Super Reviewer
Hey Hey It's Esther Blueburger Quotes
There are no approved quotes yet for this movie.