Hideous Kinky
(1998)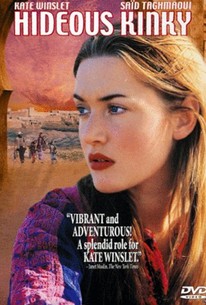 Movie Info
Gillies MacKinnon directed this $5.6 million production with a screenplay by his brother, Billy MacKinnon. The film adapts the 1992 autobiographical novel by Esther Freud (Sigmund Freud's granddaughter) about hippie misadventures in North Africa in 1972, as described by a five-year-old girl. Disenchanted with the dreary conventions of English life, 25-year-old Julia (Kate Winslet) heads for Morocco with her children, six-year-old Lucy (Carrie Mullan) and precocious eight-year-old Bea (Bella Riza). Living at a low-rent Marrakesh hotel, the trio survives on the sale of hand-sewn dolls and a few checks from the girls' father, a London poet who also has a child by another woman. After the girls match their mother with gentle Moroccan acrobat and con man Bilal (Said Taghmaoui), sexual gears are set in motion, and he moves in, serving as a surrogate father. Julia's friend Eva (Sira Stampe) urges Julia to study in Algiers with a revered Sufi master at a school of "the annihilation of the ego," and in another sequence European dandy Santoni invites Julia and the girls to his villa. As finances dwindle, Julia's philosophy is "God will provide," although usually it's Bilal who provides. This film was shot October-November 1997 in Morocco, where Winslet caught a stomach bug. Back in London, she went directly into the hospital and thus missed Titanic's London premiere. The score blends North African music with British-American pop hits of the '60s. The film's title derives from a word game played by the girls. Shown at the 1998 Dinard Festival of British Cinema and the 1998 London Film Festival.
People Who Like this movie also like
Critic Reviews for Hideous Kinky
Audience Reviews for Hideous Kinky
I enjoyed the movie. I watched it a while ago so I don't have much to offer. I remember thinking that it was very pretty. The young girls were adorable.
½
An enjoyable performance by Kate Winslett, who plays the part of a hippie mother living in Marrakesh with her two daughters, struggling to earn money from day to day. This drama was a little slow moving and not hugely exciting yet enjoyable and intriguing and an opportunity to delve into a new culture.
Lady D'arbanville
Super Reviewer
There's really not going alot in this movie. It's over an hour in till something actually happens. To be honest, if it was anyone else but Kate Winslet I probably wouldn't be interested in it in the first place, but homegirl brings it. Natural, lively, and always watchable; that's my girl.
Joey Nevarez
Super Reviewer
Hideous Kinky Quotes
There are no approved quotes yet for this movie.