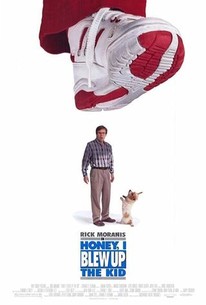 Honey, I Blew Up the Kid
1992, Kids & family/Comedy, 1h 29m
20 Reviews
100,000+ Ratings
Where to watch Honey, I Blew Up the Kid
Rent/buy
Rent/buy
Subscription
Rent/buy
Watch Honey, I Blew Up the Kid with a subscription on Disney+, rent on Apple TV, Vudu, Amazon Prime Video, or buy on Apple TV, Vudu, Amazon Prime Video.
Rate And Review
Honey, I Blew Up the Kid Photos
Honey, I Blew Up the Kid (1992)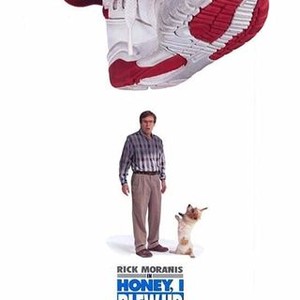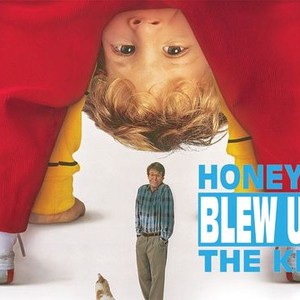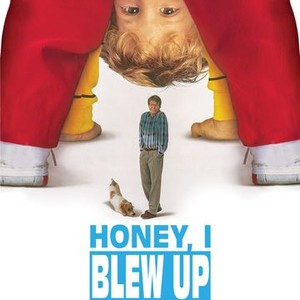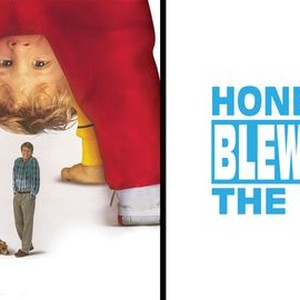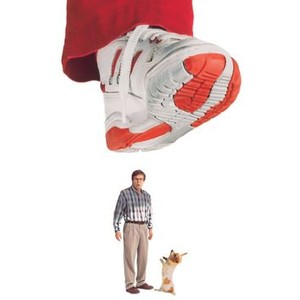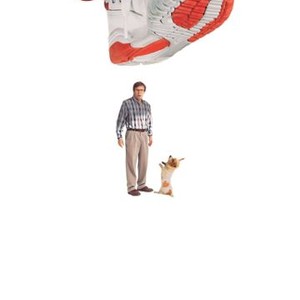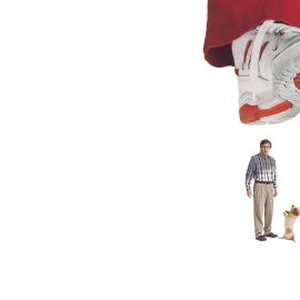 Honey, I Blew Up the Kid (1992)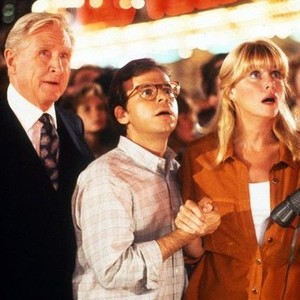 Honey, I Blew Up the Kid (1992)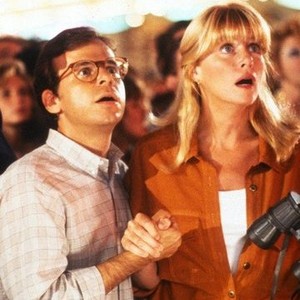 Honey, I Blew Up the Kid (1992)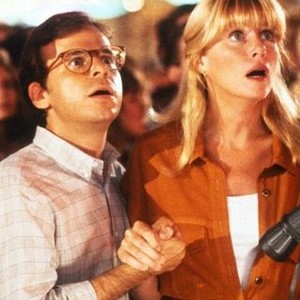 Honey, I Blew Up the Kid (1992)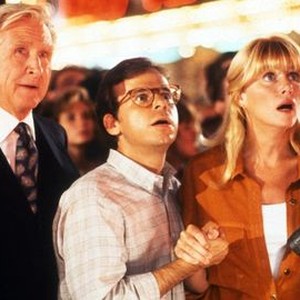 A scene from the film HONEY, I BLEW UP THE KID.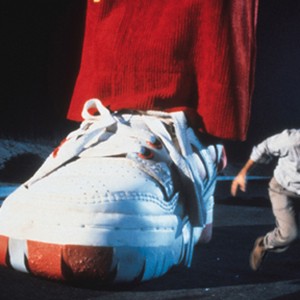 A scene from the film HONEY, I BLEW UP THE KID.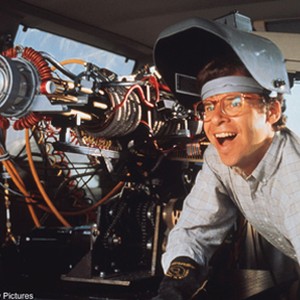 A scene from the film HONEY, I BLEW UP THE KID.
A scene from the film HONEY, I BLEW UP THE KID.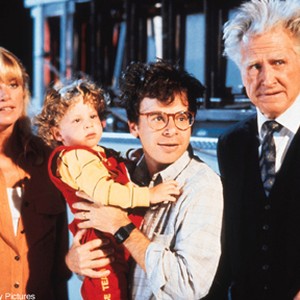 Movie Info
Scatterbrained scientist Wayne Szalinski (Rick Moranis) develops a contraption that makes objects bigger. A routine test goes horribly wrong, however, when Wayne accidentally targets his 2-year-old son with the enlarging ray. The toddler experiences huge growth spurts every time he is exposed to electricity. When their child grows to become over 100 feet tall, Wayne and his wife, Diane (Marcia Strassman), must use a shrink ray to cure his gigantism before he destroys all of Las Vegas.
Rating: PG

Genre: Kids & family, Comedy

Original Language: English

Director: Randal Kleiser

Producer: Edward S. Feldman, Dawn Steel

Writer: Stuart Gordon, Brian Yuzna, Ed Naha

Release Date (Theaters): original

Release Date (Streaming):

Box Office (Gross USA): $58.7M

Runtime:

Distributor: Walt Disney Pictures, Buena Vista Pictures

Production Co: Touchstone Pictures, Walt Disney Pictures

Sound Mix: Surround, Stereo
Audience Reviews for Honey, I Blew Up the Kid
After the first (successful) movie surrounding shrinkage, and being heavily influenced by some classic sci-fi flicks of the 50's, it was inevitable that we'd see this. Again heavily influenced by some classic black and white sci-fi movies of the 50's, we now find the Szalinskis' with a bigger problem. Yep its basically 'Attack of the 50 Foot Baby' or another 'King Kong' clone/homage. The plot: Well the title says it all really. Oh OK, set five years after the tiny events of the first movie, the Szalinskis' now live in Nevada. They have a new two year old son called Adam, Nick is now a teenager and Amy has gone to college. Funnily enough Wayne (Rick Moranis) is now working on a ray gun that will increase the size of objects. On a routine trip to his work space at Sterling Labs, little Adam is accidentally zapped with the ray but nothing seems to happen. Later on at home Adam is exposed to electrical waves from the microwave which appear to trigger the enlargement process. Slowly Adam begins to gradually grow bigger and bigger; Wayne and Nick must now try to reverse the process before Adam becomes a danger to himself and others. So again the main draw here are the effects, the big breezy colourful effects. How do they stand up? Well not too well really. OK lets start positive, there are numerous sequences where it appears that they used someone in a large bodysuit. In some scenes we see live action shots Moranis with a live action giant toddler, but if you look closely this does appear to be a very good bodysuit on an obviously tall person. These shots are always from behind the large toddler so as not to give the game away but they are very effective. This showcases the innovation of the effects crew which unfortunately could only go so far. Other than the usual oversized and undersized props, which are always highly effective if sometimes a bit rubbery looking, much of this movie has to rely on bluescreen and rear projection. And this is where the movie really falls down, the terrible terrible bluescreen/rear projection effects. The bulk of the effects are unfortunately reliant on these techniques and alas it all stands out like a sore thumb. There are clear brightness differences between the live action in the foreground and projected background. Thick black lines outline much of the effects and the colours are faded throughout. Overall the effect is just way too obvious and really takes you out of the movie. Heck even some of the large sets are bad looking, when Nick and his young female counterpart are riding in Adams oversized pocket, it just looks poor. There are some nice touches of forced perspective in a few shots but again you can see right through them. Don't get me wrong I give them an A for effort but clearly the effects team needed more money or skills, many movies came out before this and looked way better. Other than the effects there isn't a great deal on offer here frankly. The plot sees a cliched company villain (John Shea) going after the oversized Adam for his own nefarious dastardly deeds (still not entirely sure why he gets fired by Sterling, for being mean?). This inevitably brings about the inevitable 'King Kong' homages as they use helicopters to try and tranquilise Adam. Lloyd Bridges pops up as Clifford Sterling, president of the Sterling company, a company that does...scientific type stuff. Obviously Bridges brings his own brand of spoof-esque humour which is fine but a bit childish, yeah I know its a kids flick but still. Moranis brings home his lovable nerdy Louis Tulley-esque character again; complete with more outrageous inventions which are admittedly pleasing to the eye. Nothing new really, they reverse or mirror some scenes and dialog from the first movie. The movie ends in Vegas which generally looks horrendous from start to finish effects wise. The movie also becomes very stupid as they apparently evacuate the Las Vegas strip in around five minutes. They also manage to coordinate getting all the lights switched off down the strip in five minutes, like all of them! No one gets hurt, nothing gets damaged, and the way they placate Adam is vomit inducing. I guess its all understandable seeing as its essentially a kids movie but its still very lame, lazy and dull. Doesn't help that the kid they use for the role of Adam is just kinda annoying, but that's just me. I think the problem here is the over use of an idea, the Kong sized threat. Add to that the fact its a giant toddler which isn't particularly interesting or threatening, and of course the fact the first movie used a less common theme which was executed way better. Overall its all adds up to a relatively fun movie with the odd decent moment. Its just fails to capture the magic of the first movie; in this case miniature things are more fun I think.

Picking up a few years where the first film left off, we follow lovable absent minded inventor Wayne Szalinski as he once again deals with the aftermath of one of his inventions acting up. This time around he accidentally turns his two year-old son Adam into a giant, and not just that, but Adam gets larger every time he comes into contact with electricity. This is really not all that different from the first, but I liked how instead of doing the exact same thing, they flipped it in the other direction. It's also cool that the main cast playing the Szalinski's return, though it sucks that Amy O'Neil is only in it for about 2 minutes. As the latest addition to the Szalinski clan, Joshua and Daniel Shalikar are fun as Adam, and the filmmakers do a good job working with such a young performer. Other newcomers include Keri Russell as a love interest for Nick, and John Shea as a slimy rival scientist who takes over Wayne's project. This is a fun, but sometimes silly and corny movie. It's not as good as the first, but I still like it. The practical effects are well done, but the computer generated ones are kinda dated and poor. But the film is pretty creative with how they portray the scenario, even if none of it feels all that fresh. It's a pretty breezy film, and, while that's not a terrible thing, I think this could have actually been a tad longer and really tried to develop characters and subplots a bit more. That's just me though. All in all, I'm probably giving this a bit much credit, but I don't care. I think it's funny, it's an innocent family film, and, while nostalgia plays a big role for me, I still think this is an enjoyable film worth checking out.

Sequel to the decent Honey, We Shrunk the Kids is a mediocre film that unfortunately doesn't deliver anything exciting and though the effects are good, it doesn't excuse itself for a predictable and stupid plot. I thought that the first film was decent, and fun for what it was, and though nothing great, it still was a fun little family film worth checking out. However, this sequel doesn't have anything exciting or fun that makes it worth seeing, and it fails to capture what the first one did. I thought that the original didn't need a sequel, and worked best as a standalone feature. This one recycles ideas, and makes it predictable for the viewer, thus it's a tiresome affair with a poor plot and poor acting that is quite forgettable. There could have been more effort put into this one, and instead of relying on old ideas, the filmmakers could have created something much better in terms of a sequel. As a whole, this film feels rushed and doesn't deliver anything good. The first flick was very much flawed, but it had a bit of charm to overcome its weaknesses to make at least watchable. The filmmakers simply cut corners on this entry and didn't take their time to come up with a really good plot. It's all the same, except now the kids are giants, nothing more to it. That's really the only difference here. Skip it along with the third part if you enjoyed the first, as it doesn't have any good content in terms of great gags, convincing story and good acting. Everything has been done before and now the filmmakers are going through the motions in trying to create something fun, but they fail.

Pretty much as good as you'd expect it to be.
See Details