Honeysuckle Rose
(1980)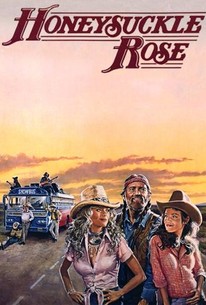 Movie Info
After displaying his easygoing charm in a number of television appearances and a showy supporting role in The Electric Horseman, Willie Nelson scored his first leading role in this romantic comedy-drama in which he (appropriately enough) plays a musician. Buck Bonham (Nelson) is a country singer/songwriter with a loyal following in his native Texas and the neighboring Western states. However, Buck hasn't yet had the hit record that would make him a star nationwide; in the meantime, Buck and his band keep up a busy tour schedule, much to the annoyance of his wife, Viv (Dyan Cannon), and son, Jamie (Joey Floyd), who would like to see Buck at home every once in a while. As Buck wonders if he should press on with his musical career or call it quits, his close friend and longtime guitarist Garland Ramsey (Slim Pickens) announces he's retiring, and suggests a good replacement -- his daughter, Lily (Amy Irving). Lily had a crush on Buck as a child, and now as a full-grown and very beautiful woman, her infatuation has only increased with time. Consequently, Buck must choose between Viv and Lily as well as his home and his career. Honeysuckle Rose was written specifically for Nelson, and his character bears more than a passing similarity to Willie and his life before the album Red Headed Stranger made him a star; the film also earned Nelson an Academy Award nomination for the film's theme song, "On the Road Again." ~ Mark Deming, Rovi
Critic Reviews for Honeysuckle Rose
All Critics (5) | Top Critics (2) | Fresh (3) | Rotten (2)
This ought to be easily told, but somehow it isn't, perhaps on account of the movie's odd casting.
Honeysuckle Rose is built upon the excellent music of Willie Nelson and Dyan Cannon's appealing performance.
Audience Reviews for Honeysuckle Rose
Willie Nelson, Dyan Cannon, Amy Irving & Slim Pickens star in the story of road life with country music star, Buck Bonham. Fun movie with a great soundtrack.
Honeysuckle Rose Quotes
There are no approved quotes yet for this movie.