Honky Tonk Freeway
(1981)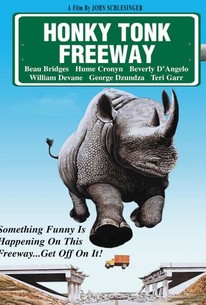 AUDIENCE SCORE
Critic Consensus: No consensus yet.
Honky Tonk Freeway Photos
Movie Info
In this involved send-up of two American icons -- the automobile and the tourist trap -- the tiny Florida town of Ticlaw strives desperately for success after it has been denied the most essential of all tourist amenities -- a freeway exit. The insane, and mostly successful, schemes of the mayor (William Devane) and other distinctly unbalanced citizens interrupt, often hilariously, the lives of various eccentric travellers forced into a place they never intended to be. Critics disagree violently on whether this is a neglected classic or sophomoric nonsense. The winning record of director (John Schlesinger) (Midnight Cowboy, Marathon Man, Cold Comfort Farm, etc.,) and first-class performances by William Devane, Beau Bridges, Beverly D'Angelo, Hume Cronyn, JessicaTandy and a plethora of great character actors -- not to mention the water-skiing elephant and the wild rhino -- argue that it's worth a look.
Critic Reviews for Honky Tonk Freeway
There are no critic reviews yet for Honky Tonk Freeway. Keep checking Rotten Tomatoes for updates!
Audience Reviews for Honky Tonk Freeway
½
The best part was the story about Ricky the Diving Pony as told to Japanese children. They misunderstood and became afraid that Lickey was gonna get 'em! I guess The Big Bus should have stopped by and blown up. I'll review that one too.
D Garce
John Schlesinger has directed some great films over his distinguished career. "The Falcon and the Snowman", "Midnight Cowboy", "Marathon Man". What drew him to an early 80's drive-in flick like "Honky Tonk Freeway" is a mystery that maybe only the man himself would be able to solve. I can't argue that there is a gem of a good idea here, but the vast majority of this is filler material. It spends most of the movie on a vast array of supporting characters that sort of reminded me of an Irwin Allen disaster picture. There are some good actors here, and some laughs along the way, but the whole thing just feels like an exercise in excess. Why couldn't it just be about this small town in Florida fighting the system to get an off-ramp? I don't know. Every other thing in this picture is kind of unnecessary, despite the smattering of good moments along the way. Beau Bridges has some funny moments here as quite possibly the worst children's author ever, and the couple of Hume Cronyn and Jessica Tandy are also fun in their roles. However, another thing that concerned me is that for a "PG" rated flick there are a lot of unsavory moments in this. David Rasche plays a pimp who apparently converts waitresses into prostitutes and Daniel Stern peddles cocaine throughout the whole thing. That kind of stuff just doesn't fit in well with the tone of the rest of the movie. I did kind of like some of the hokey country songs, however. It's weird but true, but they sort of fit in with the weirdness that is "Honky Tonk Freeway". You have to wonder just what the point of it all is.
Timothy Sanders
Very different, but was funny. I like this movie. I will not buy it, but its something to watch one tv.
Ms. Southern Lady
Honky Tonk Freeway Quotes
There are no approved quotes yet for this movie.
Discussion Forum
Discuss Honky Tonk Freeway on our Movie forum!