Hop
(2002)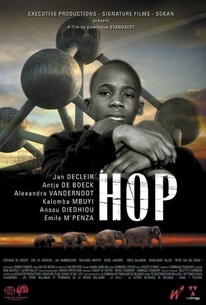 AUDIENCE SCORE
Critic Consensus: No consensus yet.
Movie Info
A boy gets an early lesson in issues of politics, race, and violent activism in this drama from Belgium. Justin (Kalomba Mbuy) is a boy living in Brussels with his father, Dieudonne (Ansou Diedhiou), who, like Justin, is an illegal alien from Burundi. While an attentive student, Justin also has a mischievous streak, and after tapping into a neighbor's cable-television line in order to watch a football match, an angry neighbor threatens to report him to the police. Dieudonne takes the threat seriously enough to clear out of their apartment and go underground, with Justin in tow; Dieudonne is soon captured by the authorities, but Justin finds refuge with Frans (Jan Decleir) and Gerda (Antje De Boeck), a pair of radical leftists sympathetic to the plight of the illegal immigrants. When they learn that Dieudonne has been deported to the Congo (where he's never lived), Frans and Gerda hire a lawyer to fight the matter in court, but Justin considers more direct action when he finds a cache of explosives hidden at Frans' place. Hop was shown as part of the young person's film series at the 2004 Berlin Film Festival.
Audience Reviews for Hop
In "Hop," Justin(Kalomba Mboyi) desperately wants to watch the upcoming soccer match but his father Dieudonne(Ansou Diedhiou) is afraid that stealing cable could bring unwanted attention to their undocumented status. However, upon seeing his son's straight A's, he relents. And then almost immediately regrets it when the downstairs neighbors are so upset at their poor television reception that they toss Dieudonne's television out the window which does get the attention of the authorities. He is arrested while Justin gets away, stowing away in the back of Frans'(Jan Decleir) van. At first, Frans wants nothing more to do with him but soon warms to him with Frans' friend Gerda's(Antje de Boeck) intervention at the police station possibly staving off Dieudonne's deportation for a day. Proving that any movie that gets both pygmy and anarchist into the same sentence cannot be all bad, "Hop" initially cultivates the eyes with its crisp black and white cinematography with a couple of well-timed splashes of color. To its credit, the movie smartly explores such serious issues as immigration and identity in Belgium where there is a more than healthy mistrust of the authorities and that is divided by language which is supposed to be united by soccer. However, while the idea of The Hop makes sense in theory, the movie is seemingly unwilling to seriously explore its consequences, falling on the sentimental and cliched side of the equation in the process.
Hop Quotes
There are no approved quotes yet for this movie.