Dr. Seuss' Horton Hears a Who!
(2008)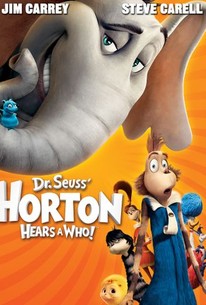 TOMATOMETER
AUDIENCE SCORE
Critic Consensus: Horton Hears A Who! is both whimsical and heartwarming, and is the rare Dr. Seuss adaptation that stays true to the spirit of the source material.
Dr. Seuss' Horton Hears a Who! Photos
Movie Info
Horton the Elephant struggles to protect a microscopic community from his neighbors who refuse to believe it exists.
People Who Like this movie also like
News & Interviews for Dr. Seuss' Horton Hears a Who!
Critic Reviews for Dr. Seuss' Horton Hears a Who!
Audience Reviews for Dr. Seuss' Horton Hears a Who!
I commend Dr. Seuss for his creative writing that intertwines silly and ingenious rhyming with a heartfelt message and story. In Hollywood, you can't just let talent like that be untouched, so what's Hollywood gonna do? They've gotta transform his book into a movie, and you know what? Surprisingly, this animated adaptation stays true to the source material... to an extent. Let's set this on a scale: the movie's an hour and 26 minutes long while the masterfully written counterpart hits less than 50 pages. An adaptation of the book would hit a mere 20 minutes. So, to prolong the running time, the creators of the adaptation decided to bring on additional writers to fill in the gaps. Let's say this: these writers hardly compare to Dr. Seuss. It's the same old "MTV-esque" jokes and pop culture references thrown in just so kids could get a quick laugh. Don't get me wrong though, the movie follows the same twists and turns as the book, but in between those turns are prolonged sequences of average dialogue. And the quality of this dialogue sticks out like a sore thumb especially when the film itself has sequences of Dr. Seuss' own writing within the mix. As you can see, there's two jarringly different types of dialogue within the film: one is witty, sharp, and smooth while the other is like any other average everyday type of banter. It gives the entire film an inconsistent tone. The original story had an incredibly pure and powerful message that was both direct and deeply moving. Fortunately, Hollywood didn't strip it out, but because of these tonal inconsistencies, by the time the film reveals its message, it isn't as powerful. As a matter of fact, even the 1970 TV adaptation of "Horton Hears a Who" executes its message and story more cohesively than this film. All in all, Dr. Seuss' writing was so creative and influential that in fact, it brings out the rough edges to what may seem like Hollywood's attempt to revive a "non-relatable children's book", when in fact, the original children's book is the best version of the story. But, there's no doubt that if you haven't even touched the original story, this version'll suffice.
Albert Kim
Super Reviewer
Great animation about an elephant called Horton who hears the Whos calling for help. They live in a speck on a clover.
Candy Rose
Super Reviewer
Scott Green
Super Reviewer
Dr. Seuss' Horton Hears a Who! Quotes
| | |
| --- | --- |
| Jessica: | My world is called JessicaLand, and everyone worships Queen Jessica because Jessica is so beautiful! |
| Angela: | Jessica... that was awesome. |
| | |
| --- | --- |
| Horton: | Hello! |
| Mayor: | Hello? |
| Horton: | I don't know exactly how to tell you this, but you're living on a speck. |
| Mayor: | Seriously, who is this? Is this Burt from accounting? |
| | |
| --- | --- |
| Horton: | And even though you can't hear or see them at all, a person's a person, no matter how small. |
| | |
| --- | --- |
| Katie: | In my world, everyone's a pony, and they all eat rainbows and poop butterflies. |
| Horton: | That's beautiful Katie..in a really weird way. |