Hours
(2013)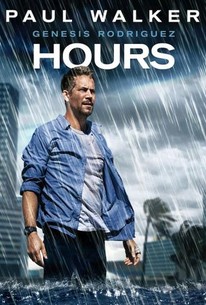 Movie Info
Before sunrise on August 29, 2005, Nolan Hayes (PAUL WALKER) arrives at a New Orleans hospital with his pregnant wife, Abigail (GENESIS RODRIGUEZ), who has gone into early labor. What should be one of the happiest days of Nolan's life quickly spirals out of control when the birth goes tragically wrong and Hurricane Katrina ravages the hospital, forcing an evacuation. Told to stay with his child, who is on a ventilator, and await transfer by ambulance, Nolan and his newborn are soon cut off from the world by power outages and rising floodwaters. When no one returns to help, Nolan faces one life-and-death decision after another, fighting to keep his daughter alive, as minute-by-agonizing minute passes...becoming unimaginable hours. (c) Pantalion
News & Interviews for Hours
Audience Reviews for Hours
One of Paul Walker's last films is this suspenseful thriller that can be quite tense in a minimalist way when not contrived or melodramatic, yet it could have been set in any city hit by a fictional hurricane without the need of using a real tragedy as a plot device.
Carlos Magalhães
Super Reviewer
In one of Paul Walker's best performances to date, "Hours" follows a man after the loss of his wife during childbirth and he must keep his baby breathing in the incubator with no power during the events of Hurricane Katrina. The premise of this film sold me right from the start and it was just the film that he needed to boost his performance stature. Taking place mainly in one building for the entire film, this low-budget film is a true marvel and really something to strive to be able to pull off. While this film has a few script issues and there are a few predictable moments, Paul Walker's performance vibrates off the screen and the emotion in this film is handled beautifully. Almost every scene made me tear up, because they knew how to handle it. Aside from it's few faults, "Hours" is a great film!
MisterYoda ?
Super Reviewer
Hours Quotes
There are no approved quotes yet for this movie.