The Hustler
(1961)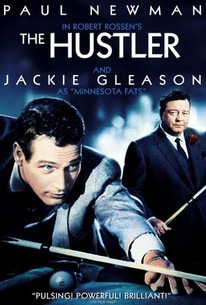 Movie Info
As The Hustler's "Fast" Eddie Felson, Paul Newman created a classic antihero, charismatic but fundamentally flawed, and nobody's role model. A pool player from Oakland, CA, as good as anyone who ever picked up a cue, Eddie has an Achilles' heel: arrogance. It's not enough for him to win: he must force his opponent to acknowledge his superiority. The movie follows Eddie from his match against billiards champ Minnesota Fats (Jackie Gleason) as he falls in love with Sarah (Piper Laurie), an alcoholic would-be writer and sometime prostitute, and falls under the spell of Bert Gordon (George C. Scott), a successful gambler who offers to take Eddie under his wing and teach him how to play in the big time. However, when Sarah joins Eddie and Bert on a trip to Louisville for a high-stakes match with a dandy named Findlay (Murray Hamilton), the consequences prove tragic. Along with a classic performance by Newman, The Hustler also features turns by Scott, Laurie, and Gleason, in a rare dramatic role. Cameos from pool champ Willie Mosconi and boxer Jake LaMotta add to the atmosphere of Harry Horner's grubby production design and Eugen Schüfftan's camerawork. Director Robert Rossen, who had been working in films since 1937, was to direct only one more film, Lilith (1964), before his death in 1966. In 1986, Newman returned to the role of "Fast" Eddie in Martin Scorsese's The Color of Money, for which he finally earned an Academy Award as Best Actor. ~ Mark Deming, Rovi
News & Interviews for The Hustler
Critic Reviews for The Hustler
Audience Reviews for The Hustler
With an exceptional cast - most especially Paul Newman and Piper Laurie in outstanding performances -, this is a profoundly compelling and richly complex character study about an arrogant, self-destructive anti-hero in search of his own "character" and finding it in a most painful way.
Carlos Magalhães
Super Reviewer
½
A very well-done, old fashioned story concerning a drifter (Paul Newman) who hustles people at the game of pool, but potentially meets his match on the pool board in Minnesota Fats (Jackie Gleason), while struggling to keep his relationship with an equally troubled young woman (Piper Laurie) going. You can probably call a good chunk of what takes place, with a few surprises dished in, but ultimately this movie remains extremely entertaining thanks primarily due to the ensemble performances (Newman, Laurie, Gleason, and George C. Scott are all tremendous) that raises this somewhat familiar tale well above average territory. It has a lot to say about taking sports too seriously, especially when gambling is involved, and how one could sometimes put sport above relationships with people and the cost that comes with it. Not a flawless film, but darn close to one, and a movie that should be seen by anyone who loves sports (like me).
Dan Schultz
Super Reviewer
½
A character study of an awesome proportion, it's much more than the theatrical antics of a small time pool hustler. Paul Newman portrays "Fast" Eddie Felson, a hustler who tours the country with his partner conning the money out of men to pay for their next hotel room, booze, and many dames. Still, Eddie has higher aspirations than to be a con man to secure a sizable nest egg, and so he goes up against the biggest fish in the pond, Minnesota Fats, played by the always entertaining Jackie Gleason. Though Gleason isn't a large presence in the film, he is the main goal for Eddie, the motivation for most of the film. It's a complex issue that rears its head in many antihero works, when the main protagonist gives up happiness for something bigger than themselves, and here Eddie is stuck between a rock and a hard place. It's truly an actor's film, showcasing the talents of Paul Newman and the very enigmatic and rarely seen Piper Laurie. Both are thrown into many scenes together with very little story and are forced to show the craggy underbellies of each of their characters. Though it drags at times, it's very volatile to watch their relationship, and the sacrifices each puts forth in order to keep Eddie from becoming a washed up has been, yet find some form of happiness. At the very end, it's no longer about the ideal Eddie holds of himself, but escaping the clutches of a system that would keep him underfoot. Besides Newman and Laurie there are some great small parts for Gleason and George C. Scott. Both come off as austere and stoic in the face of the storm but in the end they show their true colors, their lack of strength when the hero shows himself above their antics and backroom dealings. Eddie really is the entire film, falling between a mess of a human being into the hero who you root for when he's down by a large sum of money, the crowd starting to disperse, and the sweat and tears mingling on his face. Heavily Oscar nominated, The Hustler remains a classic in every sense of the word, sparking a sequel in the eighties called The Color of Money, starring Paul Newman, again as Fast Eddie, and big star Tom Cruise. I can't wait to see it in order to compare and contrast, but truly it's this film, so classic, so fraught with tension and sexual ambiguity, that will probably stay with me.
Spencer S.
Super Reviewer
The Hustler Quotes
| | |
| --- | --- |
| Charlie Bums: | It's quiet. |
| "Fast" Eddie Felson: | Yeah, like a church. Church of the Good Hustler. |
| Charlie Bums: | It looks more like a morgue to me. Those tables are the slabs they lay the stiffs on. |
| "Fast" Eddie Felson: | I'll be alive when I get out, Charlie. |
| | |
| --- | --- |
| "Fast" Eddie Felson: | You still don't see it, do you, Charlie? You are nothing but a small-time Charlie. You'd love to keep me hustling for you, huh? Wouldn't ya? I mean, a couple more years with me, scuffling around them little towns and those back alleys. You might make yourself enough to get a little poolroom back in Oakland. Six tables and a handbook on the side. Is that when you say goodbye to me, Charlie? |
| | |
| --- | --- |
| Sarah Packard: | You know, I've been living here for almost three years. Now in three days it seems as if I know everybody. When I pass people on the street I want to stop and say, "Listen, I got a fella." |
| Sarah Packard: | You know, I've been living here for almost three years. Now in three days it seems as if I know everybody. When I pass people on the street I want to stop and say, 'Listen, I got a fella.' |
| | |
| --- | --- |
| Sarah Packard: | Why me? He takes her head in his hands and kisses her. She responds but, as he holds her tighter, she starts to struggle. |
| Sarah Packard: | Please ... please ... please. She pushes him away and shakes her head. |
| Sarah Packard: | You're too hungry. |