I Come With The Rain
(2009)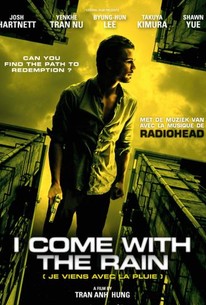 AUDIENCE SCORE
Critic Consensus: No consensus yet.
Movie Info
Former Los Angeles cop Kline (Josh Hartnett) accepts a job searching for the son of a prominent businessman in the Philippines after gunning down a serial killer in the line of duty, and finding it impossible to put the incident behind him. Following his leads to Hong Kong, Kline discovers that the boy has decided to cut himself off from society while becoming embroiled in an increasingly explosive street war between the mafia and the police.
Critic Reviews for I Come With The Rain
All Critics (2) | Fresh (1) | Rotten (1)
It's certainly odd to suddenly be distracted first by what looks like one character's glass eye, and then notice the waterfall behind him, and then recognize that he appears to be floating, but that's really just our imagination. Maybe.
A meandering and meaningless pile of drivel that does a disservice to its many fine performances.
Audience Reviews for I Come With The Rain
A truly odd, weird film. I was hoping for a decent thriller, maybe a bit of action. Instead it's a low budget indie film that has many layers but none of them that interesting... I'm sure there is supposed to be some "message" as such in the film, but the poor story, editing and strangeness of it all will have you wishing the credits come sooner rather than later.
This movie will definitely fall under one of the weirder films I've seen. The premise of this film is the story of Kline, an ex-cop (Josh Hartnett) who is haunted by his memories of a serial killer he took down who liked to dissect his victims pre-mortem and using their body parts to create permanent "art" fixtures. Aftewards, Kline is hired by a billionaire to locate his missing son. First to the Philippines, and then to Hong Kong where his mind further deteriorates. There are themes of the Passion of the Christ, crime noir, a little action. It's just random and all over the place. Shitao, the billionaire's son ties in for the weird factor with Kline, except Kline has an excuse! My biggest pet peeve about this film was the fact that Josh Hartnett and Simon Andreu (the serial killer) were the only English-speaking actors in the film, yet everyone is speaking English. And its obvious that its the second language of all the other actors. It was jarring because their English was strongly accented. I would've much preferred subtitles. And what's funny is that I think if this film were animated, I would've called it avante garde. But maybe because its live action, I just consider it strange. The one upside though is the music. Radiohead really dishes out some great tunes. But other than that, just a weird flick.
Remi Logan
Super Reviewer
Not quite what I was hoping for. The film's mainly let down by some poor editing and some poor acting by some of the asian actors. I'm not too sure whether Anh Hung Tran should really have stayed with the Korean language as it would add authenticity to the film as a whole. On some positive notes, which keeps my rating at 3 stars is the pace of the film . Josh Hartnett is brilliant and unlike I've seen him in many of his films before. Byung hun-Lee is equally brilliant but the rest of the cast are quite poor. There's also a great soundtrack by Radiohead and some lovely cinematography. I think the sub-plot of Klein battling PTSD becomes the more interesting tale and that's where some of the weakness lie in this film. More positive aspects include several topless shots of the male leads which kept my attention throughout.
Sarah Gaish
Super Reviewer
I Come With The Rain Quotes
There are no approved quotes yet for this movie.