In the Pit
(2007)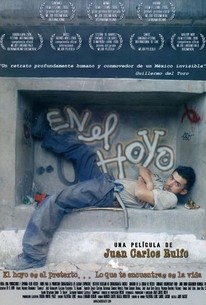 Movie Info
The hardships of a Mexico City construction crew struggling to complete a second deck atop the massive Periférico Freeway are explored in director Juan Carlos Rulfo's studied look at the modern work ethic. As countless drivers zoom past the enormous worksite day after day, the anonymous workers toil away in a relentless drive to finish construction on the massive freeway addition by the scheduled completion date of December 2005. Despite the long hours and sometimes harsh working conditions, workers such as "Shorty" and "EL Grande" look past the sub-standard safety conditions to focus on the task at hand. Though both men know that when the project is finally completed they will likely receive little to no recognition for their monumental feat, the differing attitudes that they take towards their jobs offers a compelling look at the divisive opinions that many Mexicans hold in regards to both themselves and their country.
News & Interviews for In the Pit
Critic Reviews for In the Pit
Audience Reviews for In the Pit
½
[font=Century Gothic]"In the Pit" is an insightful documentary about the building of the second deck of the Pereferico Freeway in Mexico City, focusing on men(and one woman) who worked on the immense project.(It should be noted that there is a sort of hyper-masculinity infecting the workers. One even spent his time spying on passing female motorists.) Through this, there forms an incisive portrait of the class system of Mexico. To start, the construction crews were mostly from the lower and working classes who risked their lives working below, on(while dodging traffic) and above the ground. Building another deck was a particularly bourgeois solution to the traffic woes as most people who own a car are at least of the middle class. By comparison, the workers take buses to and from the site. I do not think the second deck will even alleviate traffic in the long run, as it will just lead to more cars taking to the roads.(For more information, read "The Power Broker" by Robert Caro.) and therefore to more pollution. [/font]
In the Pit Quotes
There are no approved quotes yet for this movie.