Inspector Clouseau
(1968)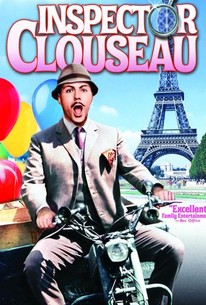 AUDIENCE SCORE
Critic Consensus: No consensus yet.
Inspector Clouseau Videos
Inspector Clouseau Photos
Movie Info
The famously inept but accidentally brilliant Inspector Clouseau returns to help foil a group of daring robbers in this comedy, the only film in the long-running series not to feature Peter Sellers as the bumbling inspector. Instead, the talented Alan Arkin assumes the role, blundering his way through the expected series of absurd, slapstick situations. The plot centers on a series of Swiss bank robberies under investigation by an uptight Scotland Yard inspector (Patrick Cargill), who naturally becomes infuriated by Clouseau's unwelcome intervention. Meanwhile, the robbers decide to confuse matters by wearing Clouseau masks, offering further opportunities for farcical mistaken identities. Due to the absence of both Sellers and director Blake Edwards, Inspector Clouseau has largely been forgotten in comparison to the other Pink Panther films, though it maintains some interest as a curious aberration in the popular comic series.
Rating:
G
Genre:
, ,
Directed By:
Written By:
In Theaters:
On DVD:
Runtime:
Studio:
MGM Home Entertainment
Audience Reviews for Inspector Clouseau
½
Alan Arkin was far better at portraying Inspector Clouseau than Peter Sellers was and Mr. Yorkin is a better director than Blake Edwards, so the summation of the two, is that this is the best of the Pink Panther movies.
Naomi Gonzalostein
½
This movie was made by United Artist after the success of A Shot In The Dark. Peter Sellers didn't want to do it and neither did Blake Edwards. Without them this movie fell flat. Alan Arkin played Clouseau but it was his own version. Without the aloofness of Seller's Clouseau it just wasn't as funny. They threw in some James Bond jokes and they stole the rubber mask ploy from the Mission Impossible TV show. The funniest part of Seller's Clouseau was his outrageous French accent and is mispronunciation of the simplest of English words. Alan Arkin's accent wasn't that funny. In a way Arkin played Clouseau too seriously. Arkin had Clouseau showing self doubt while Seller's Clouseau was totally clueless. I saw 5 minutes of this movie on TV once while channel surfing and didn't realize till years later what I had seen.
Donald White
It is clear very early on in this one why this film is so overlooked in the Pink Panther film series. After disagreements during the filming of "A Shot in the Dark", Director Blake Edwards and star Peter Sellers vowed to never work together again...but the series was still popular, and the studio wanted more...but they still couldn't manage to convince either party to return, not even one. So without the backbone of the series (Edwards and Sellers) this film really suffers. I usually like Arkin, but he is really miscast as Clouseau, and he doesn't come close to filling the shoes of Sellers. The film also feels a little too much like a Bond parody as opposed to just a bumbling detective story, so I'm not even sure the film would have succeeded if Sellers had returned. So this was a failure, and it's often forgotten status in the series is pretty warranted.
Ken Scheck
Inspector Clouseau Quotes
There are no approved quotes yet for this movie.