Intacto
(2002)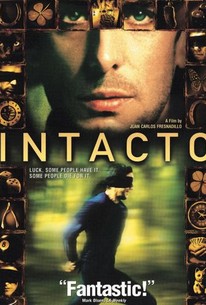 Movie Info
Some people are born with good luck, but others try to attain it however they can -- and at any cost -- in this offbeat psychological thriller from Spain. Samuel Berg (Max Von Sydow) is an elderly man who lives beneath a gambling casino on an island off the Spanish coast. In Berg's world, good fortune is a commodity that can be acquired from others, and while would-be gambler Federico (Eusebio Poncela) has a genuine talent for taking good luck from those who have it, Berg's gift is even stronger, and after a long day of absorbing positive vibrations from winning gamblers, Berg steals the day's "take" from him, leaving Federico to plan his revenge. Federico becomes aware of Tomas (Leonardo Sbaraglia), a man who recently survived a plane crash, and is convinced he has even more luck than Berg can overcome; the two become partners, and Federico enters Tomas in an underground tournament designed to determine who Lady Luck smiles upon most sweetly. After Federico and Tomas win a handsome home from Alejandro (Antonio Dechent), a former bullfighter, the pair seems poised to go up against Berg and claim his luck as their own, but Sara (Monica Lopez), a police investigator, is convinced Federico and Tomas are up to no good and begins exploring their bizarre secret world. Intacto received its American premiere at the 2002 Sundance Film Festival.
News & Interviews for Intacto
Critic Reviews for Intacto
Audience Reviews for Intacto
½
This is a pretty damn good movie, one that takes a while to get into but a really good movie nonetheless. The main problem the movie has is that it spends over half the running time explaining the game without ACTUALLY explaining what the game is. The game is so and so but you really have no idea what it is at any point. Eventually I figured it out on my own what the fucking game really was, and then everything finally fell into place and I could really get into the movie. I don't know if I was just completely and utterly retarded this day or whether the rules of the game were just poorly written. I'd like to think it's a combination of both. But the idea is really good and innovative and the story is presented in a completely believable way, and everything feels more important because of it. There's no goofy shit here and everything that goes on in this world matters. So overall, despite some issues at the beginning, this is a very good movie with an innovative presentation. Definitely an underrated movie.
Jesse Ortega
Super Reviewer
½
The interesting premise to this Spanish thriller is that some people are luckier than others, and those with the gift of luck play in a series of secret tournaments where they face off against each other, sometimes for fatal stakes. Max von Sydow, playing a Holocaust survivor, is the luckiest man alive---but can a man who miraculously survived an airplane crash unseat him? The idea of the underground luck circuit, and the strange, ritualistic games they play to determine who among them is the luckiest, is the most interesting thing about it; the rest of the movie is moody, humorless, and distant, and doesn't generate as much suspense as you might hope.
½
Interesting premise, in which luck is an actual gift that some people possess, who then compete against each other in a series of challenges to determine the luckiest person on earth. At the same time, a wanted criminal is being chased by a cop who possesses this same gift. The games of luck are fun to watch, and there is always the looming question of which of the characters is actually the luckiest. Not a lot of substance beyond the basic premise.
Intacto Quotes
There are no approved quotes yet for this movie.