Jefferson in Paris
(1995)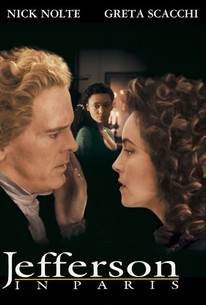 Jefferson in Paris Photos
Movie Info
This historical drama takes place during future American president Thomas Jefferson's term as an ambassador in Paris, in the years preceding the French Revolution. Much attention is paid to Jefferson's private life, particularly his affair with young slave Sally Hemmings (a detail felt by many critics to be historically inaccurate).
Rating:
PG-13
Genre:
,
Directed By:
Written By:
In Theaters:
On DVD:
Runtime:
Studio:
Franco London Films
Critic Reviews for Jefferson in Paris
All Critics (15) | Top Critics (4) | Fresh (5) | Rotten (10)
Aka the affairs of Jefferson. Handsome production.

Good idea, but Nolte is not believable as Jefferson.

Journal and Courier (Lafayette, IN)
Contains ample pleasures for those who appreciate subtlety and sophistication in their movie fare.

Spirituality and Practice
Audience Reviews for Jefferson in Paris
½
A bunch of supposition unsupported by the known facts but a handsome production, if a bit overlong. Jefferson's daughter Martha Jefferson Randolph, by all reports a vivacious charming girl, is done an injustice by way of the sulky, petulant flat performance Paltrow gives of her.
½
Comes off as weak sauce and with almost no direction. The film seems to wander aimlessly through Jefferson's years in Paris without much point. There he is talking to his daughter who hates slaves and wants to join a Parisian convent. There he is flirting with a married Italian woman. There he is flirting, maybe?, with his young slave. There he is talking to French people. Not only does the film not have a clear story in mind, it also seems to forget that not everyone speaks French. There are a number of conversations all in French with no subtitles. Just people speaking French for whole scenes. I can see where Nick Nolte may have kind've had the look, but he was pretty bland as Jefferson. Thandie Newton was fun to watch; vibrant and interesting. Gwyneth Paltrow was also interesting as a spoiled, confused teenager.
Peter Ambrose
½
While not a particularly powerful film, this remains an interesting look at the time spent by our third president in France and his romances there. Oddly enough, Jefferson (as played by Nick Nolte) becomes one of the least interesting characters in the film as everything just seems to be happening around him rather than as a result of his actions. This is both a result of Nolte's less-than-firey performance and a script that tries to both play it safe by never showing Jefferson and Sally Hemmings romantically together but insisting that it happened regardless. Nonetheless, I was caught up in the historical drama of it all with its handsome production values and a great supporting cast. I've never wanted to slap Gwyneth Paltrow more than in a few scenes here and let's be honest - that's really saying something.
Matt DeGroot
Jefferson in Paris Quotes
There are no approved quotes yet for this movie.
Discussion Forum
Discuss Jefferson in Paris on our Movie forum!