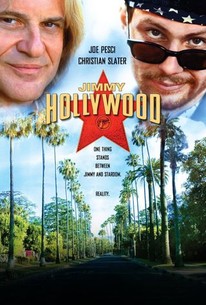 Jimmy Hollywood
1994, Comedy/Drama, 1h 57m
23 Reviews
1,000+ Ratings
Where to watch
Rent/buy
Rent/buy
Rate And Review
Movie Info
Jimmy Alto (Joe Pesci) is an unemployed actor in Hollywood, Calif., who decides to allay his boredom by fighting crime. With assistance from his dim-witted buddy, William (Christian Slater), Jimmy forms a vigilante group and adopts the alias "Jericho." Rather than take on criminals directly, Jimmy records them engaging in illegal activities and then gives the evidence to the cops. Inevitably, this pursuit winds up getting Jimmy and William into plenty of trouble.
Audience Reviews for Jimmy Hollywood
Joe Pesci is one of the most underrated comedic actors in all of Hollywood. The reason is simple, Cousin Vinny aside, he's never really been able to have success on his own. Pesci is usually in huge movies, paired with other big stars, and his rave reviews fall under the supporting actor tag. Jimmy Hollywood is yet another example of Joe Pesci going out on his own and striking out big time, which is quite surprising, when you consider who the Director of the film was. Jimmy Alto (Pesci) is a failing actor in Hollywood, he's done everything he can to make a name for himself, but he never has. One night a down and depressed Jimmy finds that his car has been broken into and it's the last straw. Along with him best friend, William (Christian Slater), Jimmy decides he's going to make a name for himself by cleaning up the streets of L.A., but that doesn't go exactly as planned either. The film is Written/Directed by Barry Levinson, who is usually known for his originality, but in this case, he's got nothing more than a trailer trash rip off of The Green Hornet. The parallels are really uncanny and the originality just isn't there. Even if a film has been done before, if it's good, I can still somewhat enjoy it, but that's another glaring problem with this film, it's not even that funny! Where are Joe Pesci's legendary profanity filled tirades? Where are the classic Home Alone type slapstick moments? Jimmy Hollywood just kind of is what it is, and what it is, is slow, predictable, and done. As a fan of Joe Pesci, I had to see it, but you don't, trust me, you're not missing anything.

Stick to playing mobsters and not some weak fool.
See Details